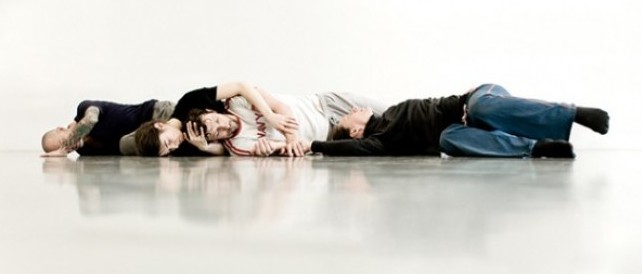 The human body exceeds its corporal borders, (violently, erotically) but does so in relation to external formal structures. Smear wasn't difficult for Stéphane and me since our dancing together invariably produces sweat and a slippery contact that generates movement beyond the direct lines of pressure and intention. Sweat crosses the body's skin border, and does so involuntarily. It is not really consciously controlled even if we can generate the conditions that call it forth. Emotional states such as fear also generate sweat as an involuntary exceeding of physical containment. Sharing sweat creates a space of mingling of our insides in a shared point of generative contact. read more…
Friday, 11 July, 2014
Something from Nothing film screening IFI, Dublin
On Tuesday 15th July, Sarah Browne will screening her film, Something from Nothing,at the IFI, Dublin, as part of the Beyond the Bechdel Test season. The film was shot earlier this year in the Shetland Islands with choreography by Fearghus, a soundtrack by Alma Kelliher and cinematography by Kate McCullough. It features a number of women, including a knitter (the fastest in the world), a photographer, a sex worker, a member of the youth parliament and the Sarah herself.
The screening is at 18.30 and will be followed by a Q&A with Sarah Browne.
Tickets can be booked here.