Tabernacle by Seona Mac Réamoinn, Irish Theatre Magazine
Reviewed 27 May 2011 at the Project Arts Centre.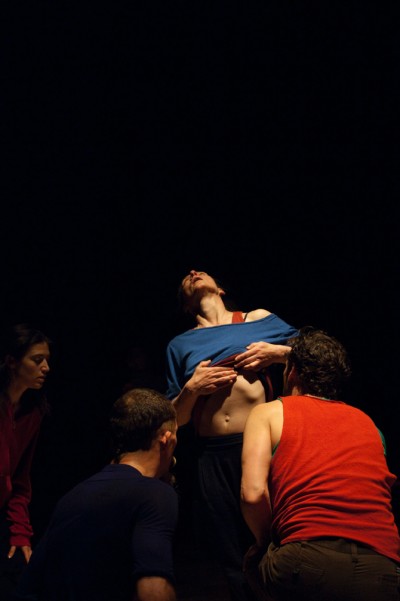 http://irishtheatremagazine.ie/Reviews/Current/Tabernacle
If you melded together all the gestures, postures and body contours which emerged in the choreography of this extraordinarily intense work, which premiered at the 2011 Dublin Dance Festival, it would probably resemble a film montage of religious iconography. From the prostated bodies in the opening sequence to the subtle moves and gestures evoking kneeling, praying, breastbeating, adoration or veneration, choreographer Fearghus Ó Conchúir made tremendous use of the visual and physical language of artistic religious representation in Tabernacle.
Throughout the work, we were reminded of the sculpted figures and spiritual paintings which adorn churches and prayer houses, family homes and schools, but especially in institutions where the Catholic culture is dominant. Those images are often both very physical and sensual, and, as re-created by the fine ensemble of five excellent dancers, were both familiar and unsettling. At the core of the work is a questioning of that curious contradiction in these religious and church images which can accommodate both the sacred and the profane. Ó Conchúir bravely explored this, particularly in relation to the human body, which we have learned in other contexts to have been both defined and tragically also defiled by the very guardians of that church. Despite some blurred phases of movement, Tabernacle is a striking artistic and symbolic response to a difficult contemporary issue, and delivered a strong emotional impact.
Although stepping in and around issues of religion and authority, the work was not about an incident of child clerical abuse and no specific characters existed – no victims, no perpetrators. There was no narrative thread, no telling of anyone's story in dance. It was closer to a moving picture show as one image and phase dissolved into another. Yet a high level of suggested ambiguity, confusion, guilt and manipulation emanated from the work. The dancers were always in motion, creating a world of children and adults, teachers and pupils, of social interaction and community; they presented snapshots of incident and event. The incantations of Iarla Ó Lionáird's sean nós singing, his voice arcing and then sinking into mysterious lower depths, made everything dark and portentous – and, while the dancers moved playfully, circling in imagined games, there was a pervasive sinister undertone to their hesitant joyless movements.
The highly visual content of the work was probably due to the work's origins as a short film, Mo Mhórchoir Féin, created by Ó Conchúir with director Dearbhla Walsh as part of the RTÉ 'Dance on the Box' series. [See opposite.] In the film, an almost naked male body moved in the incongruous setting of the altar space of a Catholic church, while an altar boy and priest finished their ritual mass duties. In this stage work, that incongruity and notion of an oppositional force was further developed where the tabernacle is no longer merely the traditional receptacle of communion hosts representing the body of Christ; it can also be seen as the body itself, a sacred physical temple teeming with the contradictions and pain of religious belief, and the confusion engendered by human needs and desire and the repressive power of institutional authority.
In a recent interview, Ó Conchúir spoke of that inherent ambiguity: "My body got its physical training on the sports field, but its aesthetic training in church." And so it is no coincidence that the work was staged in a space that was redolent of a sports hall, a church hall turned gym created by visual artist Sarah Browne. Her set of wooden benches which morphed into beds and walls, cupboards and trees was both flexible and functional. It was a place where physicality could be privately natural but publicly awkward, and where sexuality was confusing. Here, Matthew Morris' body rose magnificently from group play with all the pride of an athlete in ancient Greece or a hurling hero on the field of Croke Park. His extended long limbed and muscular dancing paralleled the glorification and veneration of the body as a temple of excellence and physical prowess. But this was then followed by uneasy moments where fingers brushed against one another, and there was a whisper of inappropriate intimacy. This then evaporated when the other dancers clustered around to create a safe haven.
Another image that is particular familiar in Christian iconography is that of the wounds of Christ being touched by unbelievers seeking reassurance. Ó Conchúir played with this so that when dancer Bernadette Iglich was raised aloft by the crowd, her torso bared, a once sacred image began to disturb as the physical touching became frenzied and took on a sexual and invasive tone.
The collaboration with Sarah Browne brought another element to the work: that of superstition, folk custom and belief. The rag trees, their branches draped with tattered rags of cloth, pointed to that more ancient world of faith which included holy wells and pilgrimages, relics and rituals.
The most enduring image and sequence was closer to the end of the work. A lone figure walked slowly around the stage, hunched over and clearly weighed down. He is revealed to be burdened by the layers and layers of clothes he is wearing – a metaphor for the layers of concealment and hidden scars of unnamed shame or guilt he is carrying in his life. Is he a victim or a perpetrator? Ó Conchúir is not interested in blame but in urging us to look again at the images and practices at the heart of a now unravelling religious culture. The moment of redemption, acknowledgment and liberation is palpable. The clothes are peeled away and energetically discarded as if lost innocence and joy were being restored. A physical, unspoken unpacking of secrets and lies is complete.
Seona Mac Réamoinn is a dance writer for numerous publications including The Irish Times, Sunday Times and Metro.