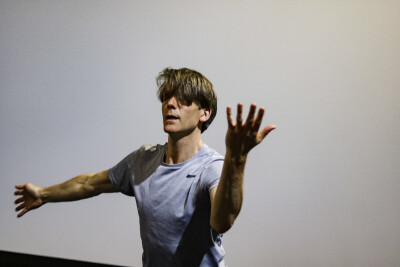 When I saw that the Lightmoves Screendance Festival was expanding its programme to support  research on work that combined dance and digital technologies, I recognised that it was an opportunity for Rob Eagle and me to continue the work on dance and AR that we had initiated at NDCWales with the support of Clwstwr.  When I stepped down as AD of NDCWales in 2020 we continued to explore the development of the initial research with the Company but with the uncertainties of the pandemic and the necessity for the Company to pivot so much of its engagement with the public to online formats, the particular queer live-digital experience that was at the heart of our research wasn't straightforward to pursue.  Rob and I knew ourselves that conceiving an audience experience that involved shared AR headsets wasn't going to be achievable in a climate of anxiety about hygiene and proximity, though that anxiety about intimacy that's part of our queer/gay inheritance already haunted our exploration of AR.  With NDCWales' blessing we've been able to progress the work independently and the Lightmoves Open Studios residency offered a space and context for a welcome resumption of our collaboration.
As with everything this past year and a half, Covid and attendant travel restrictions have been challenges to choreograph with.  The week before we were due to arrive in Limerick, Ireland increased the mandatory quarantine period for travellers from the UK who were not fully vaccinated.  Rob was able to respond quickly to arrive for the lengthy isolation period.  The extra time commitment was a signal of how important it was for us that this would be an in-person research.  Rob and I shared an apartment when I got to Limerick 5 days later and worked as a bubble for the week at Dance Limerick's beautiful church space.  From the start of our collaboration we've been keen to foreground the bodily impact of augmenting technologies and the seduction of immersion.  While some of the other projects on the Lightmoves Open Studios residency had chosen to work remotely and made that remote collaboration part of their research focus, it was a delight and release and inspiration to be in a studio/performance space together.  Some of that had to do with feeling part of a familiar creative community, being in an environment where I've danced before and being able to meet in-person friends and colleagues who remind me of my place in a wider network of dance.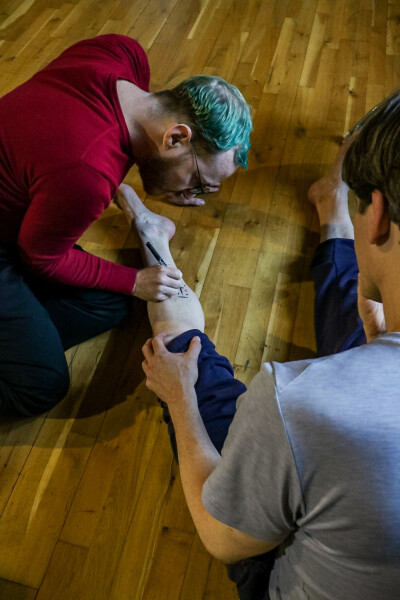 Another part of the pleasure was finding an easy working process with Rob that was testimony to what we had learned from our earlier Clwstwr/NDCWales research.  On a practical level we had to relinquish our earlier investigation of the AR headset, the wonderful group of dancers we'd worked with and with them some of the explicit references to Hylas and the Nymphs.  Instead we shifted to an exploration of AR on smartphones with me as the performer.  And yet what we achieved during the week – the nature and the extent of it would not have been possible without a shared language, a shared approach and a clarity about the fundamentals of our joint focus in this this dance and AR collaboration.  
As with the Waterhouse picture of Hylas and the Nymphs, we remained interested in the threshold of immersion, the queer flow back and forth between the seductive pleasure of being immersed and the estranging awareness of what that immersion entails.  As with using the Oculus headset when working with with smartphones we started with existing AR apps as a point of departure, using Instagram as a platform for activating filters that Rob was able to adapt to our use.  This meant that we could dive in quickly to a testing phase to which I also brought some of the solo material I've been working on.  On the one hand this meant that we inherited assumptions, content, approaches already built into what we were bringing to the collaboration.  But it also meant that we were working with something that was already layered, already tested, already viable.  And it meant that the collaboration between dance and technology was an encounter between robust elements that was made productive (rather than combative) by the work of mutual understanding that Rob and I had done through our previous research.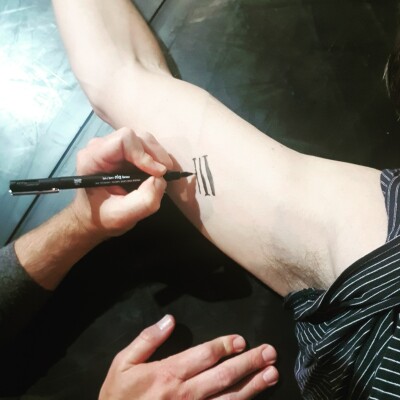 We worked with AR layers activated by codes marked on my body – marks which made us think of tattooing and other body adornment whose long history proves how fundamental augmentation always been to the human bodily experience.  The invitation to draw people and their phones close enough to my body to read a code and activate a photographic layer prompted the questions of intimacy and safety that hasalways been our preoccupation.  The set up brought up questions that are technical and artistic as we tested the transparency of layers, the effectiveness and durability of mark-making on sweating skin, the dramaturgy of revealing marks and their attached images that might enhance a narrative and finally the experience of viewers who might see others coming close but who would maintain a distance to observe the process unfold and therefore have a different perspective.