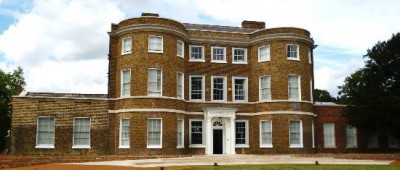 Earlier this month, I took part in a networking evening for 'creatives' in Waltham Forest where I've lived since moving to London 20 years ago, having fallen in love with dance and with Pete. Hosted at the William Morris Gallery (deservedly and delightfully Art Fund Prize for Museum of the Year 2013), the event was a great opportunity to meet some of the many people in Waltham Forest who are involved in the cultural sector both locally and in (mostly London-based) national cultural institutions like the Royal Opera House and the Barbican. I've always known that the borough is home to creative people. Good transport links and relatively affordable housing are pragmatic reasons why that's the case. Pick'n'Mix:the Dance Selection was my way of highlighting the choreographic talent (Kim Brandstrup, Freddie Opoku, Stephanie Schober, Matthew Bourne, Jonathan Goddard) in and from the borough that rarely gets an opportunity to connect with audiences in Waltham Forest.
When the Council developed its Cultural Strategy in 2010 (Taking Our Place in London), I wasn't so confident that the council was aware of its cultural resources, particularly among borough residents. Since 2010, Cultural and Leisure Services have been moved around within the Council structure and sits now in the Health and Wellbeing portfolio of Cllr Ashan Khan. Although that placement within the priorities on the council has an impact on how arts and culture is framed there is a lot to celebrate and be encouraged by how arts and culture is being invested in.
Waltham Forest Council is about to launch an Arts Grants scheme of £200k to be spent over the next 18 months. It also has a £9 million programme to improve the Borough's High Streets and an arts regeneration committee currently developing a public art policy. The regeneration of The Scene at Cleveland Place which incorporates a Cinema will release significant S106 funding to be used artistically and creatively. This together with a pending bid to the Arts Council for capital funding towards a new performing arts space in Leytonstone and a renewed partnership with Film London demonstrates what the Council calls a 'commitment of ensuring that Waltham Forest becomes a cultural destination and a place for its residents to satisfy their artistic thirst.'
Of course there is a typical and understandable focus on 'communities' as audiences or participants in this investment with an almost inevitable separation of artists from those communities when in fact many of the borough's residents are simultaneously artists and audiences – some professional artists, others enthusiastic and often skilled amateurs. The Council would do well to support participation by its residents in artistic activity at all levels, supporting professional and non-professional practice and ensuring there is an ecology where the range between professional and non-professional is interconnected and mutually reinforcing.
There is a great appeal for me in being able to access cultural activity near home, being able to make work near home and being able to connect with people who want to engage with my work and its ideas near home. Rehearsing Porous down the road in Dean James' KNI Hub studios in Blackhorse Rd last summer was a real pleasure. I notice that RSA has also been recommending that there should be more place-based commissioning (see Vikki Heywood's inaugural lecture as Chairman of the RSA, encouraging greater connection between artists, cultural organisations and local communities. I do worry, despite my own enthusiasm for what is possible in Waltham Forest, that again there is an assumed separation between artists and communities, a lack of recognition that artists are part of community (even peripherally, though often centrally), and that the understanding of who communities are needs interrogation. For me communities and places need to be thought of as porous entities, open to inward and outward movement, as indeed a borough like Waltham Forest is, and also as entities that are constituted by difference and healthy disagreement. Too often the language of social cohesion sounds like a smoothing out of difference, with cultural activity expected to provide social glue, when in fact much art is a way of giving form to a dynamic of differences held in tension. While I want to play my part in making Waltham Forest 'a place for its residents to satisfy their artistic thirst', I want to keep in mind that those residents are multiple, that the communities they form and reform are in constant flux and that the thirsts that need satisfying are many and varied.