I've been cautious about celebrating publicly that fact that I've had access to studio space recently.  Aware that I've fretted reading social media posts about others working (how are they doing that?  where is that possible?  are they bubbling?), I haven't wanted to contribute to any one else's anxiety – especially when my achievements in the studio have been of the most basic kind.  I can't contemplate any grand schemes of making when I'm not confident that I have a handle on what I'm experiencing, let alone what anyone else is experiencing.  What I feel I have managed to do is be in a studio, thanks to the generosity of Artsadmin as it tests out its new protocols for opening up the Toynbee Studios again.  I've experienced again and with great appreciation the pleasure of going out of the house to work in a space that has enough volume to draw out more movement possibilities.  And crucially, a space big enough to allow me to invite some other dance artists to share that space physically.
I have been connecting with Isabella Oberlander with Zoom as she's worked in the Dance Limerick studio and though mostly I've done that from the spare bedroom at home, seeing her in a studio has felt like a valuable reconnection with a generative working environment.  However, connecting with her via Zoom from the Toynbee Studio felt even better, when we could share work spaces – one in London, one in Limerick – where we could both move to communicate ideas rather than my just indicating things to her from the bedroom confinement.
Equally, I cherished the fact that I could talk with Alexandra Waierstall today from the studio, sharing movement material with her, seeing what she saw via Zoom, knowing that the digital media could extend the very strong connection I have to her beautiful work and that I could feel her supportive attention from experience and from the screen.
But what was particularly thrilling and emotional for me today was getting to dance with another dance artist in the same space.  Though I'm still making my own way through the processing of our current experience, I know that doing that work with and alongside others is not only enriching but essential.  So the generosity of Toynbee allows me to share space with others.  Today Rob Bridger and I maintained prescribed social distance in the studio, and yet found connection across the space in gentle lines of energy that felt so nourishing.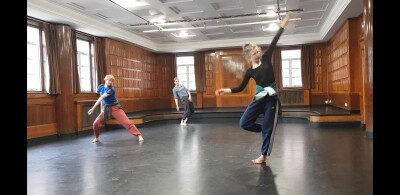 I want to claim a space for the validity of moving together, of rediscovering the pleasure and necessity of that wordless connecting (alongside useful spoken conversation), of retuning our antennae.  It's not the time for me to design performance.  It's the time to cherish, nurture and celebrate the value of corporeal connection – not just for those of us for whom dance is a profession but all of us