They came with me, leaving the familiarity of the studio where so many interesting ideas, touches and relationships were already extending. We went into the gloom of a cold January afternoon and I asked them – Bernadette, Matthew and Stéphane – to see and feel for me. I brought them on a walk down Sheriff St, past the new developments of Spencer Dock, the new DART station and on to the edges of the new tide of development. Bernadette asked me later what it was about particular places that made me identify them as places where I'd like us to put our physical material, our embodied relations. Her question made me realise that it's not so much buildings as atmosphere that draws me; but that the process of construction, particularly on the scale we see in Dublin, creates an atmosphere.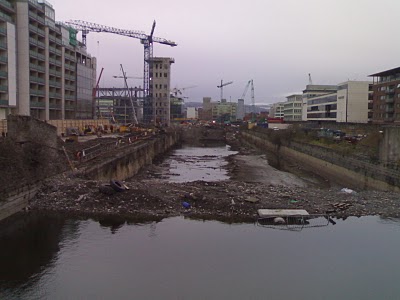 When I look from the bridge at Spencer Dock and its development, I see the meeting of the gleaming aspiration and the unreconstructed dereliction. I see the energy of the new and the powerful vestiges of the old. I see cranes, mountains, rubbish, plate glass and many, many high visibility jackets. I see in the juxtaposition of these elements a location where our physical inhabitation can be like a lightning rod for the energy of the juxtaposition. We can help it be seen through our work.
Who owns this space between public roads and private property developments?