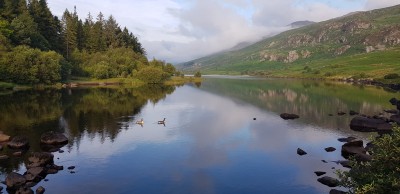 It was important that people would recognise some of the familiar choreographies of rugby in Annwyl i mi.  However, there are other structures in the work that try to acknowledge and give form to less obvious movements in the game and in the experiences of those who play and support it.  Though Welsh rugby has a significant urban aspect, Welsh countryside and the natural environment is never far away.  Except for the occasional roofed stadium, even in towns, the game is open to the elements, connected to the soil, reaching between earth and sky. (Though lest the reference to soil and earth seem too atavistic it's worth remembering the artificial, engineered genesis of most professional pitches).
Reading Owen Sheers' Calon, I came across a quotation from Seamus Heaney's Postscript that Sheers uses to describe the experience of the Welsh rugby supporter emotionally buffeted by the vagaries of the national team: 'to catch the heart off guard and blow it open'.  I was struck by the surprise, thrill and implied violence of the description and it made me seek Heaney's poem to understand the context of the quotation.  The poem describes a landscape and weatherscape  through which the narrator drives.  It's a kind of rural environment (with implied road) that I recognise and from which I've always drawn some of my own creativity.  And it's one I recognise in Wales, when I get beyond Cardiff's suburbs.  Knowing that Welsh rugby connects with that landscape too, I asked the dancers to generate solo material in response to the poem and inserted it into the choreography.  They begin in their own imaginative world and gradually share their material between them, flocking like the swans to which the poem refers, buffeted by unseen impulses that pass between them.  It's a moment when the choreography shifts from familiar rugby references to something more dreamlike – but that shift is very important as I think it reveals something about what underpins the familiar and the usually visible.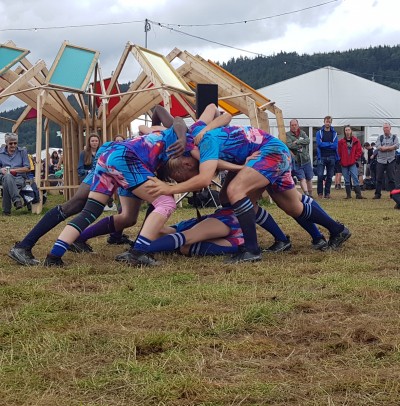 It was struck by the relevance of landscape when we journeyed to Llanrwst for the Eisteddod.  Not only did we drive through very beautiful rural environments to get there, and not only did we get to perform in a beautiful valley but we stayed in an outdoor adventure centre on a lake where I felt the energies of water, mountain, forest and sky support us for our dancing on the Maes.  The way such an environment transforms human bodies is not to be underestimated.