I do go on about building in China but I've also come across a number of stalled building projects. Near where I'm staying there's a huge space which was intended to be an art gallery but remains unfinished because there isn't the money to complete it.
Next door is a series of spaces that were intended for use as artists' workshops but these too are empty because there may not be the demand for the spaces that there was at the height of the China art frenzy in recent years, when young Chinese people decided to become artists as a quick way to make money! That's changed now and many artists here seem happy since they think that quality will emerge from the ruins of the market funfair.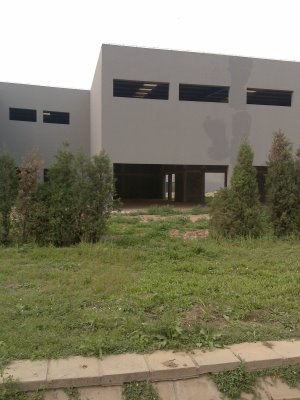 I attended the opening of a new exhibition at the Red Gate Gallery's Watchtower space last Sunday. For the exhibition, called ReGroup – New Opportunities in A New Climate, some of the gallery's well known artists were asked to make work on a much smaller scale than they'd become accustomed to in the past few years. The new modesty is more commercially viable in this climate and perhaps more appropriate.
So when I dance in these unfinished buildings in Beijing, I feel like I can insert myself in the narrative structure of the global financial crisis, as it is manifest here. What am I saying when I do so? Maybe nothing more than that I've survived so far. I'm still here. More than that, there's potential I can work with.