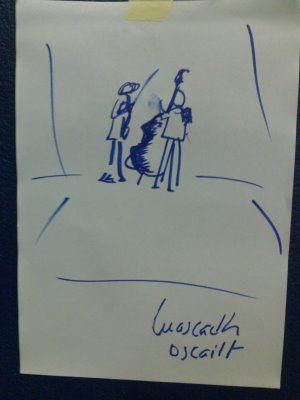 I don't know why I thought to make little drawings when we've been working on this piece. I guess it's useful for Rachel and me to have another medium to meet in that's separate from our dance and music home-arts. It helped make the rehearsal space more ours too.
We were clear about the structure of the piece from quite early in the process. It would have three parts. Rachel connects those three parts strongly to the three Gaeltachts that are involved in the creation of the piece: where I grew up sa Rinn, where she grew up i gCorca Dhuibhne and, the territory between where we meet to make the work, Baile Bhúirne.
I also connect the three part structure to the image of my father and me with the greyhound on the beach. I made this line drawing to indicate the layout of that relationship: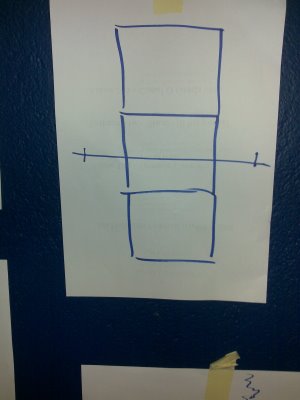 The two little figures are separate but connected by the energy of the dogs that stretches across the space. I realised when I made the drawing that it is symmetrical, that one distant figure is mirrored in the other. As a result the space between becomes important – the mirror through which one passes to see the other – or himself in the other.
In the piece, we have a film that acts as an imaginative looking glass – a dreamy beach-world to pass through that allows me to rest and also to reassess the material in part one and reimagine it for part three. The film was made by Max Le Cain and Chris Hurley.