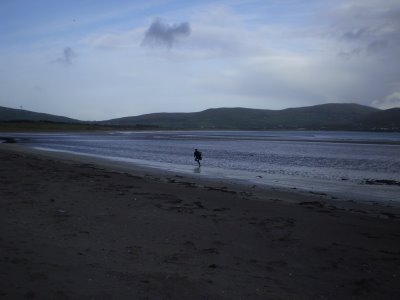 Dad in the distance across the flats of wet sands. The greyhounds straining on leashes to follow him or worse any random impulse or canine fancy on the wind. My anxiety that it should all happen as he'd instructed. Waiting, muscles taut to restrain the hounds until the moment that he would shout. Then in a flash of adrenaline, slip the leads, properly, to let the dogs streak across the wet sand, a line of sleek energy between me and him – far away.
Rachel droves us to Ceann Trá today, Ventry beach, so that we could test some ideas for the film that will sit in the heart of our piece. I wore grandad's coat – that I used in my first piece Caoineadh at LCDS – and raced up and down the beach in the wind.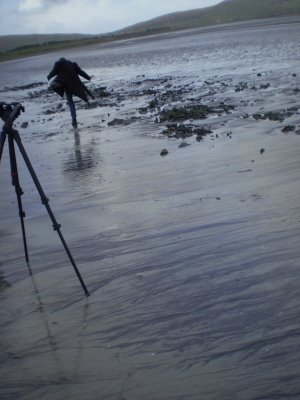 On the way back to Baile Bhúirne, looking through the steamed up wind-screen, I remembered journeys back to boarding school uncomfortable, silent and unrealised expressions of love.