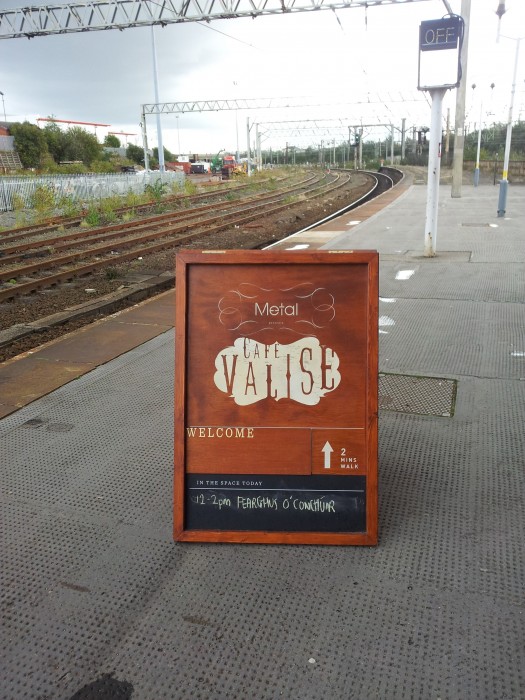 Cure has been beginning for a while. It began in March with my dancing for Matthew on his solo for me. It began with applying for funding. It began with conversations between the partners who are helping to support the work. It began last November in the studio in Ljubljana when we were on tour with Tabernacle when I realised that I couldn't ask the dancers to carry questions about sickness and cure in their bodies (not while they were carrying Tabernacle) and that maybe I was able to carry those questions in my own body.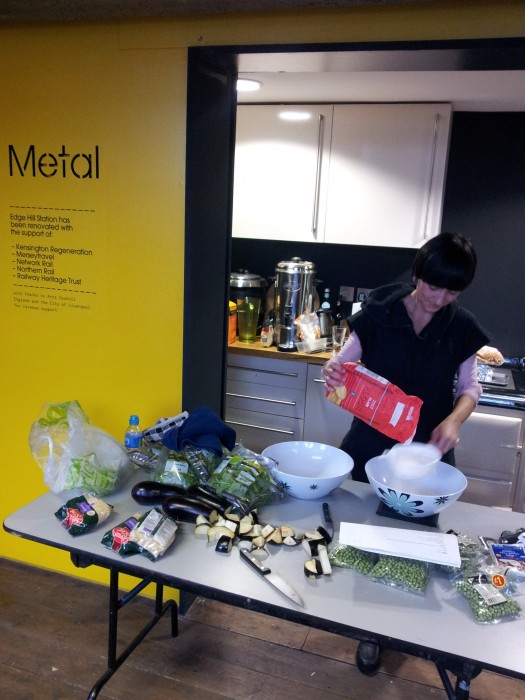 Cure began again today with a lunch I was asked to host in Liverpool. The lunch was part of Cafe Valise, Metal's contribution to the Liverpool Biennial. Metal has long had hospitality and shared meals as a framework for building relationships that spark new ideas. For the Biennial, Metal asked 12 artists to host a lunch. A wide variety of artists were asked to be involved including journalist Yasmin Alibya Brown, novelist Rosie Thomas, stand-up comedian Shaista Aziz.
It felt like a big responsibility to cook for 20 people.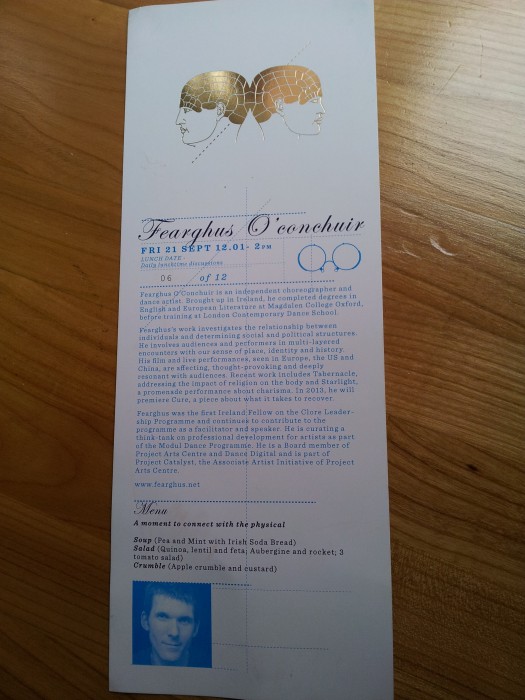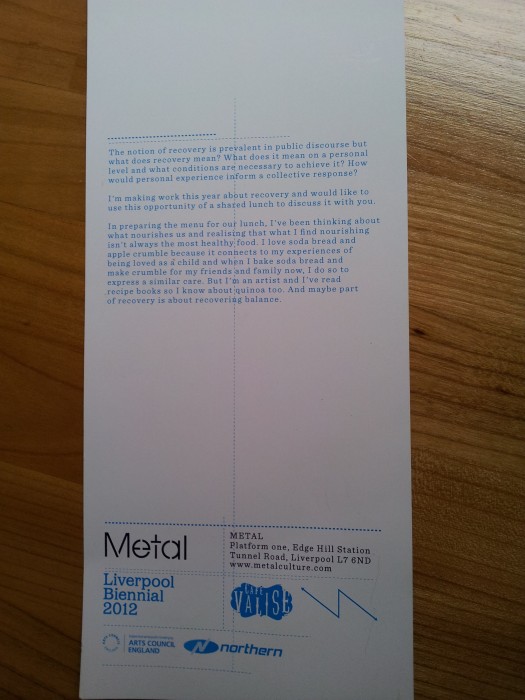 I decided to cook a vegetarian meal because it wouldn't be exclusive. I wanted something fresh and healthy but also something that would be satisfying, I couldn't have people leaving feeling hungry. I haven't baked soda bread for a long time but I do connect baking it with hospitality, with care and with my home in Ireland. I wanted to share that care with people if I was going to be responsible for lunch. I made pea and mint soup and salads with quinoa, lentils, rocket and roast aubergine. There was tarragon and olive oil and balsamic vinegar. I'm a cosmopolitan artist now – I can handle such ingredients. But I wanted to end our meal with an apple crumble because that mixture of fruit, sugar, fat and flour comforts me, pleases me and consequently nourishes me in a way that those healthy greens don't quite manage.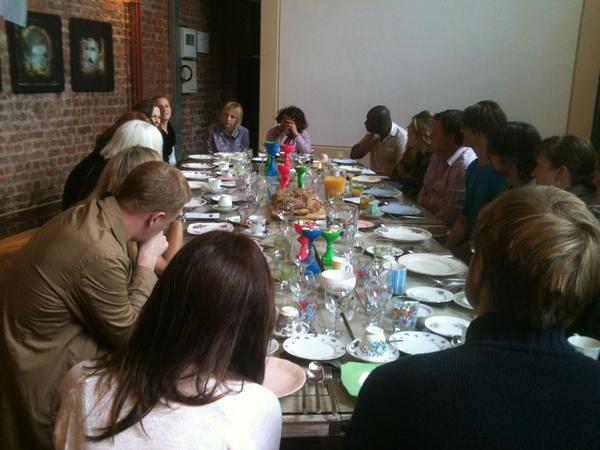 In thinking about nourishment, I wanted to use today as a chance to start talking about recovery and to listen to other people's response to the topic. I wanted to hear what recovery meant to people on a personal level but also on a social, economic and political level. The lunch guests were a mixture of artists and visitors to Biennial who shared very personal experiences of recovery but who also spoke with passion about what recovery means for Liverpool in the week following the report from the Hillsborough Independent Panel exposing "institutional denial followed by institutional deceit"
Some spoke of the acknowledgement of what had really happened at Hillsborough as a potential turning point for the city whose name had been tarnished by a false account of Liverpool fans' responsibility for the tragedy. Others added nuance by reminding us that while recovery and reconciliation (that word emerged to displace recovery in the conversation) benefited from an acknowledgement of truths that had been denied, that forgetting was also necessary to recover, that some parents of the young people who died in Hillsborough did not want to know that their children could have been and should have been saved. It leaves me wondering what balance of remembering and forgetting, of holding on and letting go is necessary to recover.
A lawyer reminded us that the word 'recovery' was not helpful to the extent that it suggested going back to a previous state. Such a return is impossible. My torn meniscus is excised and no longer causes me pain, but it is not regenerated. I move, move on but three little scars around my right knee bear testament to the injury and unseen inside other literal scar tissue remains to be worked with.
So I left the lunch full (and like an Irish Mammy relieved that the guests were full and particularly satisfied with a good custard and crumble). I am also aware that recovery is a big subject to broach with people. My hope is that these conversations will help me refine what in recovery is right for me to address with people. Cure has begun. Again.