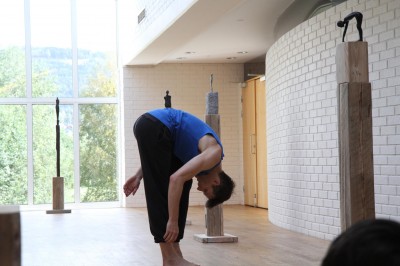 Tove Hirth and I have been friends since we met at Pearson College in Canada in 1987. I think we both discovered our art forms at Pearson, me dancing in the Theo Dombrowski's Ukrainian Dance Group (and as I write this I'm claiming that title for future work!) and Tove in Fleming's art classes. Over the years she has drawn me dancing many times and used the drawings as inspiration for her bronze sculptures. Her tall etiolated figures resemble my long body. So when she asked me to come to the opening of her new exhibition in her home town of Jevnaker I was very happy to make the trip.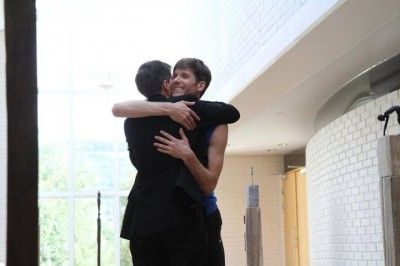 I danced at the opening and found myself still delighted to be able to do so after the knee surgery. It may be a bad thing to admit but having faced the possibility that I wouldn't dance again, I am doing so now with much less anxiety about how it looks and whether it's good. I dance now because I want to and I can.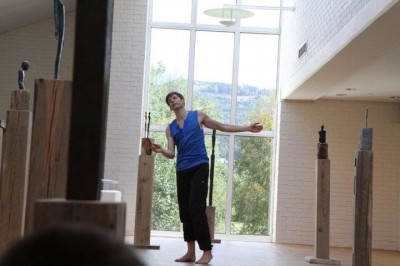 The opening was a great success: the quality of Tove's work, the beauty of the environment, the care of those that helped Tove and Tove's own ability to draw people close to herself, connecting one to another generously all contributed to that success.
Some other things impressed me also. The exhibition took place in a beautiful space in a hotel and conference centre. The fact that it didn't happen in a conventional gallery space meant that people who might not ordinarily stop to look at art did so. The fact that these people could get a sense of the working process behind mounting an exhibition also allowed them to connect more with the work. And Tove is very generous in engaging people in conversation to explain her work. If she presented this work in a conventional gallery, all of this preparation would take place 'behind the scenes', 'out of shot' and only people who felt comfortable entering a gallery would find the sculptures and drawings. By mounting her exhibition in a hotel she has created new possibilities for her work and for people to gain something from it. It's a way of engaging with an audience that suits her and feels familiar to me.