"A 2010 survey revealed that only 24 per cent of Irish people feel any emotional connection to the capital. The figure goes down to 15 per cent when you exclude Dubliners.
…
In 2010 a study by Gallup revealed the link between money and civic engagement. Over the previous five years American communities with higher proportions of attached citizens (that is, people with high loyalty and passion for their communities) had stronger GDP growth than those with smaller proportions of attached citizens. More recent research suggests that rebranded capitals can help to revive moribund economies. Indeed the economic argument for rebranding cities may be the strongest of all: it pays to invest in civic pride.
The [Dublin] city council, in partnership with Tourism Ireland, Dublin Bus and the Little Museum, has just launched a competition, Uniquely Dublin. The competition invites artists, writers, photographers and filmmakers from all over the world to celebrate Dublin. There is a cash prize of €10,000 for the winner, the deadline is January 28th and the winning entries will be exhibited throughout the city in the spring.
My hope is that the competition will feed into a much larger conversation about the future of our country. It's good to talk. As for the project to rebrand the capital, this is exciting work, and I think it deserves your support.
A strong local identity is essential, not simply for social capital but also for economic performance. If we get this right, Dublin may yet take its place among the great small cities of the world." Trevor White The Irish Times
Before we came to Cyprus last week, I had become increasingly aware of the commodification of map making Recent disquiet about Google's comprehensive map-making has focused on concerns about privacy ('Google is planning to release a new version of the Google Maps program, offering users a 3D aerial-mapping technology that provides details capable of showing objects just four inches wide….Google is deploying its own camera-equipped spy planes to generate 3D maps that show greater detail than the satellite-powered images featured in its Google Earth program.'Brian Koenig, The New American). However the real point about these maps is that they have commercial value, hence Apple's decision to replace Google Maps on the new iPhone with its own Apple Maps.
Map-making has always had a political and commercial dimension. Map-making records the naming power of the victor (as Friel's Translations coveys in his play about a British military cartography expedition in Ireland). Other colonial cartography projects designate the territory for commercial exploitation. Columbus exploration of the Americas was funded on the promise of the wealth it would bring to Spain, as well as the political prestige of its territorial expansion. In more academic language, to quote Shu-chan Yan's Mapping Knowledge and Power: Cartographic Representations of Empire in Victorian Britain
'"[a]s much as guns and warships, maps have been the weapons of imperialism." As communicators of an imperial message, "[m]aps were used to legitimize the reality of conquest and empire. They helped create myths which would assist in the maintenance of the territorial status quo" (1989: 282). In other words, "[c]artographers manufacture power: they create a spatial panopticon, and it is a power embedded in the map text" (2001a: 165; see also Joyce, 2002: 159). As such, cartography can be treated as a discourse or a form of language, and maps as texts to be read and deconstructed.'
And of course Google is one of the new transnational empires of today.
Against this commercialisation of map-making, I think of the research practice that Olga, Luke, Madalina, Arianna and I have undertaken since Dublin is an emotional cartography that resists commodification. Our repeated 'walks' in Dublin and now in Limassol allow us to build highly personal, determinedly idiosyncratic maps of us in our environment that make no claim to objectivity since the 'us' part of the process 'contaminates' it irrevocably. The maps exist only in us and through us. They have partial manifestations in our dancing together, as we process them into being.
Increasingly compelling for us are sightings of our maps that we see in the framing projects of our local collaborators. Mary Wycherley's film of our process in Dublin is clearly a work of her own authoring sensibility and yet through it our map is made temporarily visible
Frames and Fragments from Mary Wycherley on Vimeo.
(Frances Byrnes audio documentation of the process has the same quality).
In Limassol, our work has been visible in the photographs of Souzana Phialas and in the drawings of architect Nicholas Santos.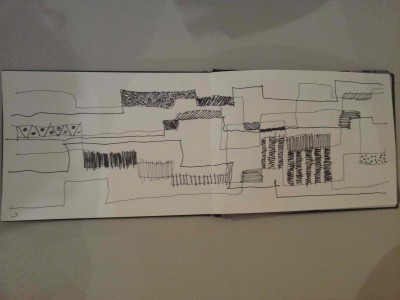 They are not entirely outside our maps since their warmth, welcome and guidance has shaped how we've experienced the city. Their comfortable navigation of the city reminds us of what being at home looks like. They nurture us in their home. But they do not share the history of map-making that we've started in Dublin and which we will carry beyond here to Bucharest.
This resistance to commodification feels important in this time when we reach to understand values that are not simply commercial. The discredited financial models of liberal capitalism remain strong despite being discredited, let's be under no illusion. But enough doubt has been sowed about their validity that it feels that there is a possibility for us to propose (inspired by and alongside the work of many others) an alternative value system. What this means in practice is that our research in E.motional Bodies and Cities is not aiming at achieving commodifiable outcome. It doesn't feel like that's our aim, in any case. None of us are driven to putting on a show that we can sell. But that doesn't mean we aren't concerned with others. Our aim is to involve people, to offer our map as material for them to become implicated in rather than a product to consume. Maybe I write only of my own desire, but at the moment I feel that I have found a context and a peer group of mature artists that helps me to investigate how that different value system for art-making can be achieved.