Five artists are talking part in the Bodies and Cities research that I'm part of for the next few weeks in Dublin. Madalina Dan from Romania, Luke Pell from England, Olga Zitluhina from Latvia, Arianna Marcoulides from Cyprus. We're working from Dancehouse as part of an EU funded E-motional Dance project.
Having introduced ourselves to each other for most of the morning we spent the afternoon getting to know the city. Dublin on a Friday afternoon in unexpected summer heat. Fair Irish skin greedy to be exposed. Pink.
It didn't seem right that I should introduce the visitors to the my version of Dublin – they'll get that anyway as we work together – so we oriented ourselves by sticking a pin into a map. The first destination was the Central Bank and as we passed through Temple Bar our way there we had a sun- and alcohol-drunk man sing to us the'Fields of Athenry' ('where once we watched the small free bird fly'). His adult son had been pelting him with food as we arrived but as his father sang for Frances' microphone the son carefully brushed bits of burger bun from the man's temple, as if to better present his dad for his public performance. As we were leaving he asked us for money for more cans.
We people watched, took photographs and talked before doing a circuit of Temple Bar ending up with the guidance of a dancer we bumped in to at a bar overflowing with Friday post-work drinkers.
As we walked around, I didn't want to guide and I didn't want to talk too much but I found it difficult since I was becoming aware of a kind of ownership of the place, an ownership earned since my residency with Dublin City Council in 2007. We walked past Project – my creative home in Dublin. We walked past Barnardo Square and I wanted to say that I screened Three+1 for now there.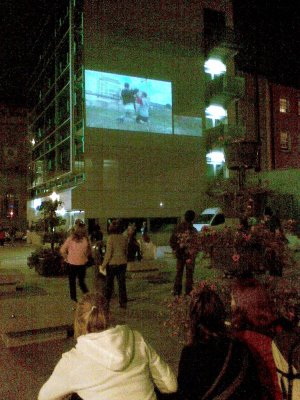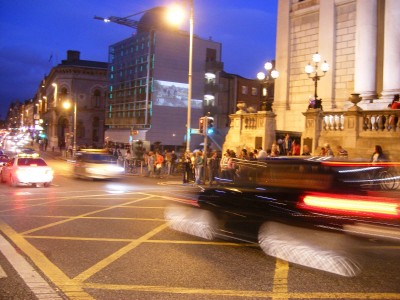 At the junction of George St And Dame St, I wanted to tell everyone that we had danced across the junction for a day as part of Rebecca Walter's Walk Don't Run.


And of course there so many places in the Docklands that I've danced too. Here's a video of my dancing near the building site of what has become An Bord Gáis Energy Theatre.
Of course I'm not the only one to feel an ownership of the city but I have tried to imprint myself on Dublin and I feel I've earned through physical and creative commitment my own place among the places of others who also inhabit this place. It is with a kind of surprise that I recognise this but I think it's an important realistion that I can accept responsibility and credit for having contributed something in this city.