I was in Bristol today when I came across a container on the waterside not far from Arnolfini. Realising that it was an artist at work and feeling some sympathy, I dropped in to see what was going on. And I'm really glad I did.
The project is called Container Studio and it's the work of Eamon O'Kane who was on reworking some urban plans and architectural drawings with felt pen when I dropped in. He's using the container as a studio while he remixes maps of Bristol. Though I didn't quite understand how he's using Le Corbusier's plans of Paris as a blue print for his remix, I loved the way the container's walls were covered in drawings and quotations from artists. The sharing of the working process in a public space is something that resonated with me. It also made me think about the performative element in his activity of drawing. It's him, in his container, a body within a structure that's generating this creativity.
He's got a slew of prestigious exhibitions this year. He's Irish, coincidentally and of course I'm intrigued by how learning more about his work could inform what I've been up to.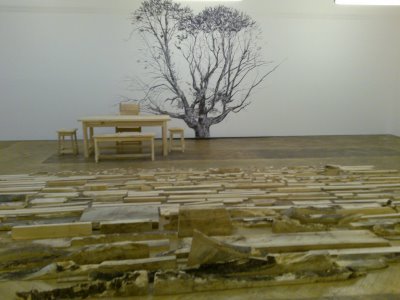 I went to see another exhibition of his in Plan 9 nearby. It features wood from a sycamore tree cut from his parents' garden. King James II apparently ate under the tree and Eamon is reconstructing the furniture used for the event from the tree. There's historical and personal text pinned on the walls as well as a charcoal drawing of the tree. I responded to the combination of history, personal narrative, organic material and craft, as well as to the slightly academic quality of the wall texts that are 'staged' on the wall (reminding me of Bernadette's lists in Niche). And of course the fact that he's constructing the furniture makes it a physical performance too. Even the charcoal drawing of the tree at whose foot the dust of the drawing activity is sprinkled lets you know the physicality of the process of its creation. We don't see him dance the drawing but we fee it has happened there.
What an unexpected stimulus to find his work. I'm glad I didn't pass by my pearls before breakfast.