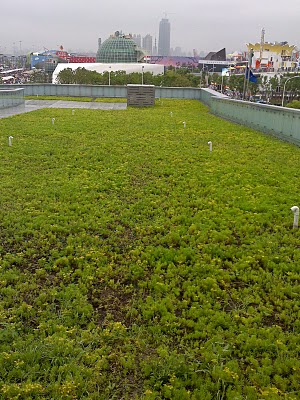 It was sad to say goodbye to Xiao Ke, He Long and Feng Hao at the end of our series of Dialogue performances in Shanghai. The challenges we faced cemented our relationship and made the piece stronger. But I did have the consolation of familiarity: Matthew and Stéphane were around for me second week in Shanghai so that we could perform Match and some of the Niche material at the Irish Pavilion at EXPO.
Match was specially requested. It had appeared from the architect's drawings that there would be a big grass area on the roof of the Pavilion and it seemed like a good idea to present Match there with its GAA references. My April visit revealed that there was lots of grass on the sides of the Pavilion, the roof was covered in sedum. So performing Match there was not going to be so easy.
In fact the sedum wasn't the real challenge. The main problem was that the sedum was planted in plastic hexagons with sharp edges the protruded from the ground, making it uncomfortable and dangerous to work on. Why, oh why do I do that? Why didn't I say it was impossible to work on? It's important to me to bring my choreography to environments that challenge it, but this seemed foolhardy. And yet I didn't say no. A mixture of cowardice (not wanting to disappoint) and courage (thinking we could pull it off) spurred me – that and the fact that we would only show the piece once.
I bought protective gloves, let Matthew wear his track pants to protect his legs and decided not to take our tops off as we usually do. And we did a great performance which was more physically expansive than I'd hoped under the circumstances and which looked pretty good on the roof in the middle of the EXPO.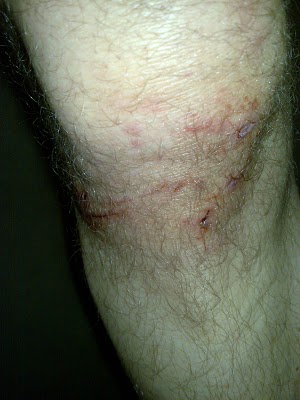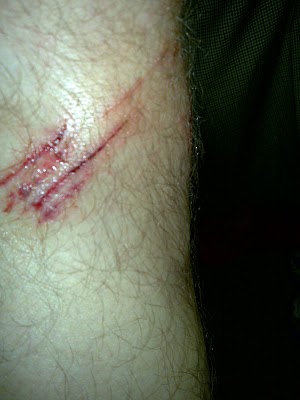 But it did cost. Matthew wore track pants but I wore football shorts and my knees got pretty cut from the plastic. And the physical risk we took didn't feel satisfying in the way that performing on the Martello Towers was satisfying. With the Towers, the environment was clearly challenging and an audience could read the encounter between body and building as a process of accommodation. But on the surface of it, the Pavilion is beautiful, modern and though pretty inhospitable to the kind of physicality of my choreography, it's not obviously so. I'm not sure an audience will have seen or felt the friction between our bodies and the environment. So while I'm pleased we did a good job, pleased our bodies can still engage with the effort and shove of Match, I'm not sure I was really satisfied with it there.