I went back to Guild st in the sunlight with trainers that I didn't mind getting dirty, in the hope that I could so some more energetic movement. I had reckoned on the intersection being so busy with people on their way home from work, with children out of school and with Mum's sunning themselves on their porches. For all my bravado about opening my work up to the public in a very direct way, I was nervous about starting, about making that transition from walkng and standing to the revved up energy of the material I wanted to do. But I did it and people stopped to watch. A car pulled with a couple who asked what I was up to. Dolores, a woman living across the street asked if it was martial arts or dance. She also advised me to be careful of my camera phone and when I told her I liked the graffiti backdrop, she suggested I look at a mural painted alongside her house opposite the new railway station.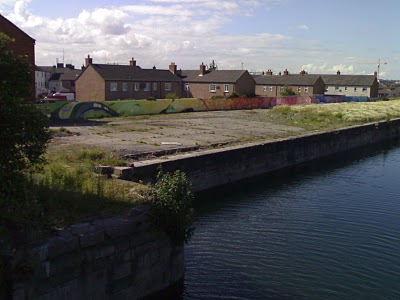 I was very aware of the number of construction workers on their way from work who passed me. They're mostly foreign nationals I guess and as they went by I wondered if bodies and buildings could find a way to connect to their experience of this changing urban landscape?
Before I left, Dolores told me that some people thought I was a 'psycho' but she told them who I was – an artist.