I performed in Hong Kong last night, on a terrace of the Osage Gallery (www.osagegallery.com). Hong Kong has been challenging but that may have had to do with the long and bureaucratically tedious journey from Beijing via Shenzhen: a 5 am start in Beijing to catch a comfortable flight to Shenzhen which passed quickly thanks to the entertaining celebration of 300 days to the Olympic opening by the improbably beautiful China Air cabin crew. A Starbucks in Shenzhen airport lulled me in a sense of being in familiar territory but then we had to take a bus to Hong Kong, which meant taking a bus to the Chinese border, unloading our luggage, queuing for the border checks, boarding another bus, travelling the few hundred metres to the Hong Kong border check, taking our luggage and going through border formalities again and finally boarding a bus to take us to Hong Kong. China's different system's couldn't have been more clearly demonstrated and frustratingly experienced.
The Osage gallery seems to support a lot of dance, with a Phillipina choreographer supported to make work in response to the gallery's various exhibitions. It's an imaginative basis for a residency if the choreographer enjoys that stimulus. The terrace space itself is great, surrounded by tall buildings with glimpses of the harbour in the distance. These are pictures of the state I was expecting to perform.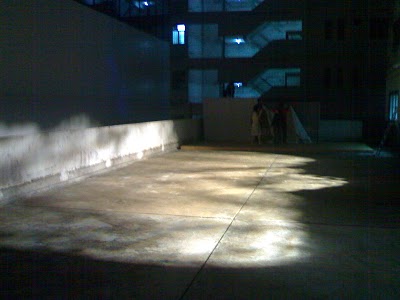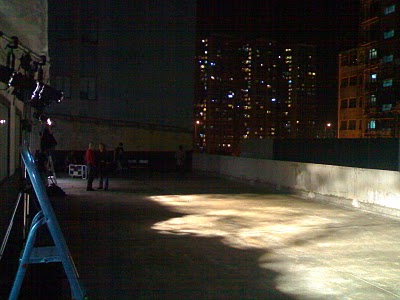 Because it rained however, we had to improvise other options. I was quite happy to dance in the rain but the lighting had to be protected. Eventually I performed with no lights in the glow of borrowed illumination from nearby buildings.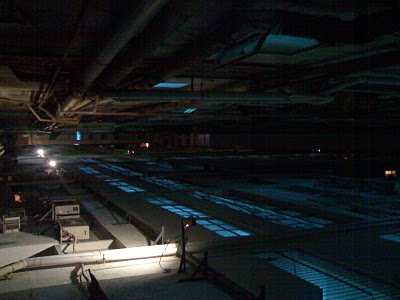 I'd intended to use the DVD of Cosán Dearg Cúl Aodha as a way to introduce the duet with Bernadette as a context for the solo and also to bring that lush countryside into the built up city. Consultations with lawyers confirmed that there couldn't be any nudity so that had to go. No matter, I brought my own connections which may have been communicated implicitly if not as explicitly as I'd have liked.
Dancing on the rough concrete meant that I had some cuts and scratches, more little marks on my body from the history of this piece. They are not trauma such as Ron Athey or Marina Abramovich perform on their body nor are they displayed like Boris Nieslony's bleeding forehead in this Hong Kong event, cut when he smashed plates of glass on his head while Siu Lan read a (partial) list of countries where human rights are curtailed. But they are a concrete element of my physical memory, that I will keep consciously as I wait for the cuts to heal and that I expect to linger beside my consciousness in the new skin that forms.