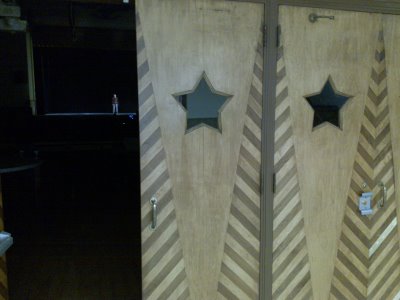 Match made an impact in Vancouver it seems. The Vancouver Sun picked it out as a 'perfect example' of the programme's 'arty sport films or sporty art film'.

There was something illicit about seeing such intimate physical contact between two men in a competitive setting.
Meanwhile in Holyoke, on the other side of the American continent, Matthew and I performed the live version of the piece, part of an evening of Irish work called Irish Cream, which despite its title was a selection of interesting contemporary dance from Ireland. As well as Match, the programme included Rex Levitates' 'Shared material on dying' and Legitimate Bodies' 'Hanging in there'.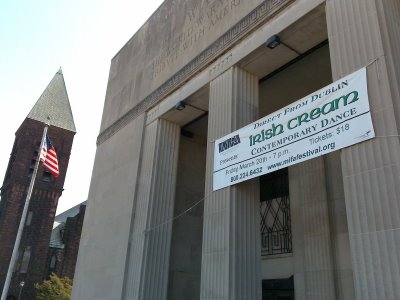 I wondered what these aesthetically, stylistically and conceptually different pieces might communicate about contemporary Irishness, particularly as they were gathered under a title that suggests sickly inebriation or a tiger toe-tapping extravaganza. When we introduced the work to a group of school children in an afterschool club, the common theme that emerged was conflict: Match's gladatorial combat, Shared Material's subtle violence, and Hanging in there's post-conflict resolution strategies. I feel a particular kinship too to the reticence of Liz's piece: its suggested violence is restrained and all the more shocking for its emergence from the fluid movement style that characterises much of her work.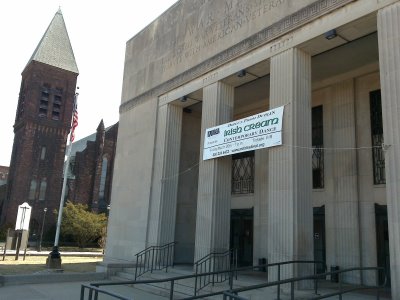 Holyoke itself was a strange place. Birthplace of volleyball, host of the second largest St Patrick's Day festival in the US, it was one of the first planned industrial towns. Its industries are mostly gone now, leaving a lot of empty factory buildings and a downtown that is bleak and populated by working class Puerto Ricans. The gigantic mall across the road from our Holiday Inn has sucked much of the life from the city centre it seems.
There are plans to use the arts as a vehicle for regenerating the downtown. The Massachusetts International Festival of the Arts who invited us are planning to reopen a big theatre there. I saw all of the warehouse space by the canals and thought what wonderful artists' spaces they could make.
But I did wonder what we were doing jetting in and out of the city. I worried that we weren't making a meaningful engagement with the place, didn't have time to understand the context in which we were performing. Matthew reminds me that these brief introductions can be the start of unexpectedly fruitful relationships and I'm sure that's the case – but I'd prefer to give more thought to helping those long term relations form.
PS
I found this bog entry which suggested that there was more going on behind the scenes at MIFA than we realised at the time