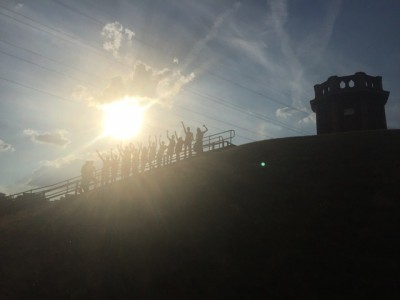 I've been aware from the outset that the Wetlands is a sanctuary and a refuge, for humans and non-humans, for anglers and walkers and parents and choreographers and, not least, a place for migrant birds.  It's made sense to me therefore to connect my dance workshops for MicroRainbow International (an organisation that works globally to end LGBTI poverty and, in the UK, focuses its activities on supporting LGBTI refugees and asylum seekers) to this residency.  It's partly about seeing the residency as an opportunity to host people, to share the privilege of my time in this beautiful location and also to ensure that the kind of public that benefits from the Wetlands is as inclusive as possible.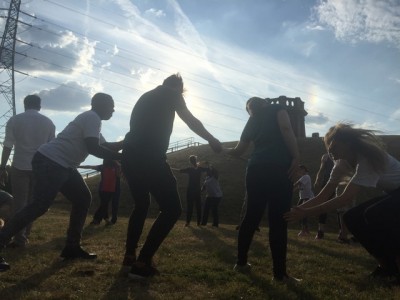 This week we hosted the second of our MicroRainbow dance workshops on the Wetlands,  thanks to the generosity of the Wetlands team (especially Ada and Ralph who've given free time to guide us around the site) and to Wilsons LLP, a law firm in nearby Tottenham that has sponsored the travel expenses of the participants (it's not enough to offer a free workshop to foster inclusion if people can't afford to get to it).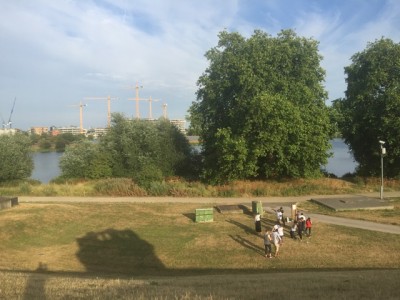 It was great to be able to share the beauty of the Wetlands in the evening sunshine, to see people relax and appreciate air and space, to see people enjoying friendship. It underlined to me again how choreography can also be developed by attending to the circumstances to which bodies are exposed.  And, as a result, I've been trying to work through the residency as a kind of choreography, a performance of the kind of relationships and exchanges between diverse human and non-human bodies I'd like to support in the world.
Here are some of the photos that Ralph Hanus took of the event: