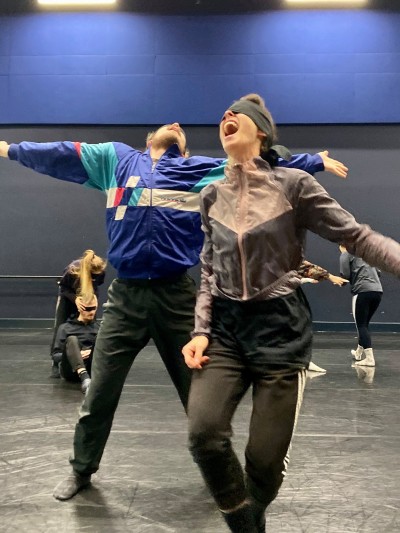 The energy that Nigel Charnock managed to dance, scream, laugh and whack into the world still reverberates despite his too early death 7 years ago.  Last week, the dancers of NDCWales, many of whom wouldn't have been aware of Nigel's work,  received that energy channelled through Jo Fong and through some of Nigel's archive that was on loan  as part of the process of reviving Lunatic, a piece Nigel made for the Company in 2009.  Jo was one of the original cast and has, with Graham Clayton Chance and Nick Mercer, who are looking after Nigel's legacy, and with Gary Clarke who also danced in Nigel's work, helped plug the NDCWales dancers into the specifics of Lunatic and into the wider source of Nigel's work.  It's been exciting to see the dancers take the permission and the challenge that Nigel's work offers to everyone – performers and audiences – to be more, to risk going further and to have fun in the process.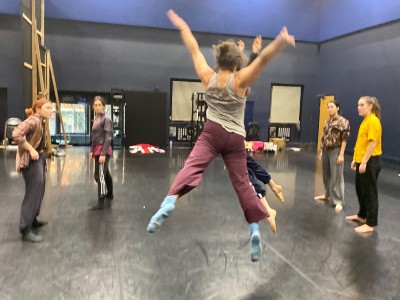 When I started dancing in the nineties, I was aware of Nigel as a fierce performer – fiercely funny, fiercely physical and fiercely moving.  I was also aware that he was gay and that his dancing in DV8 gave me a permission to explore a life through my dancing that might not have been possible otherwise.  Something in his energy also made it clear that, in the time of Section 28 and the AIDS crisis, that the life I might live had to be fought for with energy and determination.  I saw that insistence in his performances.  What I didn't realise at the time is that before helping to found DV8, Nigel had been an equally iconoclastic performer with Ludus, a dance in education collective of the most radical kind.  I came to know Nigel's solo work by the time I was in dance training myself and remember the thrill of being one of the students at The Place chosen to dance in a drama called Citizen Locke (based on the life of the philosopher) for which Nigel choreographed some scenes – thrilled and intimidated, because I felt in Nigel a standard to be achieved.  We wore very brown clothes.
Later, when I was beginning to choreograph, I had the opportunity to ask Nigel to be a mentor to me when I did a residency at Firkin Crane, working with Rebecca Walter and Ríonach Ní Néill on a piece called Vespers.  I didn't quite feel adequate to his attention at the time and yet despite my sense of inadequacy, I knew that what he proposed, by being the studio, by asking me difficult questions, by warming up in the morning with such immediate and relentless vigour, would remind me that there was more to for me to give in everything I did.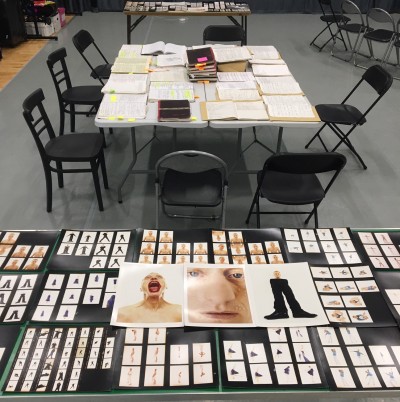 When I arrived at NDCWales as Artistic Director, I started to think about the choreographers that I thought it would be good for the Company to commission.  But I also knew that one of the distinctive qualities of a repertoire company is repertoire – a sense of history that in our contemporary art form isn't always cherished.  But proposing to revive Lunatic, a work Nigel made for NDCWales in 2009 , wasn't about just about history.  Lunatic, like so much of Nigel's work, explores sexuality, gender and national identity.  The energy of that work grew out of the oppressive society and politics of eighties and nineties Britain to which Nigel's work responded.  We might have thought we'd moved beyond that context and therefore the fight that Nigel's work represented.  But in 2019, that context, questions of national, gender and sexual identity, threats to the rights of minorities (and in the case of women, majorities) around the world, make Lunatic as relevant as ever it was.  And I love that a queer working-class choreographer who grew up in North Wales, trained in Cardiff and whose ashes are scattered across the Bay from the Dance House can still provide a radical energy to NDCWales work.