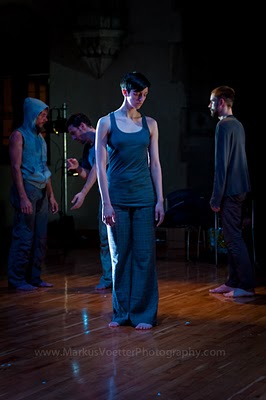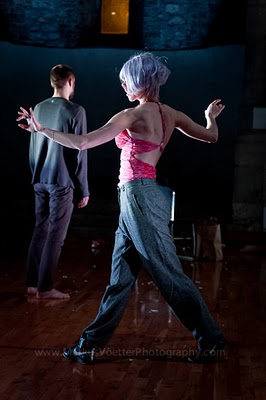 Arriving in the beautiful Daghdha space on Monday I was daunted by the amount and variety of participants that I needed to bring together to make the piece work. Six dancers from the MA programme in UL with whom I'd already made a short piece, Lucy Suggate who contributed the demented but fiercely precise energy of her Latin Beach, Ed Schouten's focused duet for Isa and Yesse, and the trio of Maria, Emmalena and Cathy whose improvisation circled the space. All of these contributions had an integrity and style of their own. I didn't want to compromise that integrity but still needed everyone to have confidence that their contribution would withstand the unusual context in which it would be viewed. I had empathy with any uncertainty since I am putting my own work in similar jeopardy.
The Daghdha space has a particular openness. It prides itself on being a space that anyone can come in to. It is not a sealed laboratory. Ironically for someone who professes to be want to open up his work, I found, when confronted by the dispersed energy of the Daghdha space, that I needed to provide a focus and a strong container for the many energies in the room. The sixteen performers felt like a cast of 50, but over the three days of rehearsal the gentle-edged jigsaw of our interaction came together, so that by the performance we knew the song of the unique work we'd created. It's a strange, unconventional song, devoid of the usual arc and cadences but all the more engaging for its unfamiliarity.
Photographs by Markus Voetter
I learned a great deal from the juxtapostions of my material with that of other people. I saw how extreme stillness and action could be held in delicious counterpoint. How layers of detail might be readable.