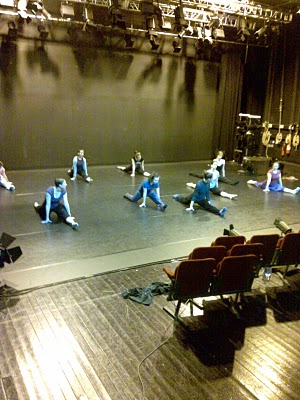 We opened Niche at Pavilion with the dancers from Dublin Youth Dance Company crossing the space from auditorium to stage to join us during the performance. The ease with which they entered and left the playing space, moving from watching to doing to watching again helped to underline the sense that the dancers are not in a separate world but that we all share the same space, are citizens of the same republic and that our unusual abilities are are as common as the unusual abilities of others.
I liked hearing that some other audience members felt they could have walked across the stage if they wanted to. They understood the invitation to participation that Open Niche implies.
Of course, I wonder how we would really have coped with an unexpected audience intervention and yet, such is my confidence in the performers and their understanding of the work, that the integrity of the piece would have been maintained whoever joined them.
For the performance the DYDC dancers (whom I called the under thirtys to distinguish them from Mikel, Matthew, Stéphane and Bernadette) wore pyjama bottoms that reminded me over slumber parties and also the inner-city fashion for women in Dublin to go shopping in their pyjamas and boots. For the last scene however the dancers changed in to their own glamorous clothes, a contrast to the rubbish bags, the second hand clothing and the crumpled men in the space.
It was a great start to the Open Niche project – great to see the Niche dancers respond to the new energy that the DYDC dancers brought and great also that the DYDC dancers could see up close how such fine and experienced performers go about their craft. This building of connections is an important aspect of the project for me.