We finished Open Niche in Cork just before Easter and since then I've had a chance to go on holiday and stand down my brain from the state of high alert it needed to be in through March with its tour, its film-making and its preparations for performing in Shanghai next month.
Open Niche was deliberately demanding for me and for the team: we weren't just fitting the existing Niche performance into each new venue but creating new performances in each location. Meeting new people, working out the new dynamic and the new creative possibilities required a lot of energy and, over the period of our tour, a great deal of stamina but this challenge was also an opportunity for my work to grow and for me to learn something new, rather than deliver over and over again a piece I made in 2008. Learning something new was the motivation for all of this work and effort.
The performance at Siamsa Tíre and the collaboration it allowed between my work and that of the National Folk Theatre was illuminating because of the ready connections that could be made between the extracts from the Siamsa repertoire that we used and some of the sections of Niche. Of course I knew that I'd used Eastern European folk dance forms in the creation of Niche but the weaving, spinning and interlinking made perfect sense in the Siamsa context. (The wide open stage without masking was a particularly hospitable performance space). The relationship between the iconic súgán chairs from Siamsa's rep and the metal and plastic Niche chairs (from Dancehouse) made for a neat reflection on tradition and modernity too. I still carry with me the idea from Siamsa that 'Folk' is what the people do and so Niche, which was intended to be some kind of reflection of elements of contemporary Ireland, could be regarded as a folk piece too
It was a big change to go from sharing the space in Tralee with three professionals (Anne O'Donnell, Adrienne Heaslip and Jonathan Kelliher) to Cork where we worked with Transition Year Students from St Vincents's Secondary School:
Ciara Twomey
Kate O'Shea
Amy Walsh
Laurey Casey
Shaunagh Brereton
Leah Spillane
Chloe Griffin
Jennifer McKenzie
Amy Leslie
Megan O'Brien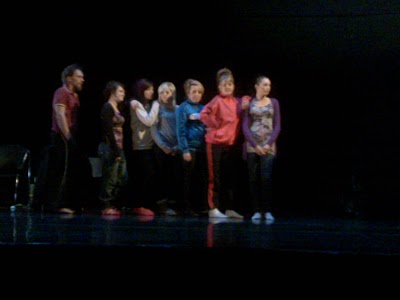 Though they take part in the Firkin Crane's Chance to Dance Programme and have a dedicated teacher in Siobhan Woods who makes sure the students get many performing arts opportunities, the girls are not experienced dance performers. I had created some material with them when I visited earlier in the Spring but since some of the students who were present then were no longer available, I had to abandon that direction and work simply and quickly with what we had.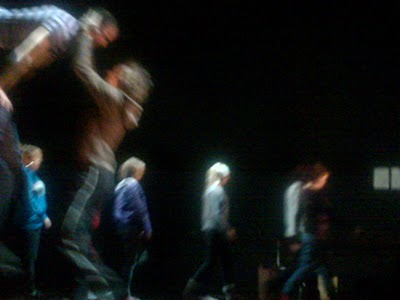 in the end, it was the energy and presence of those teenage girls on stage which was important and I used simple walking patterns, exits, entrances and watching to organise their involvement in Open Niche.
Working with these non-professionals in such a short space of time was a challenge, particularly at the end of the tour when we were running low on energy reserves. The first afternoon rehearsal was a bit cranky with its anxieties and skittish nerves for the girls and tiredness for the Niche dancers who had performed the night before and traveled that morning. But after that introduction and arriving on stage next day, everyone was much more familiar and relaxed with what would be involved.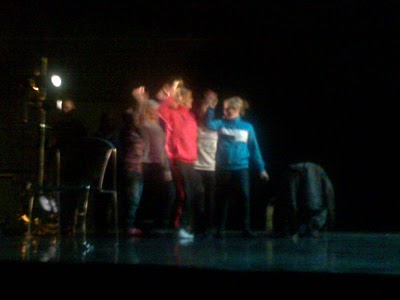 In the end I thought the performance was great and hope some of the performing talent I saw among the girls gets a chance to grow in other contexts.