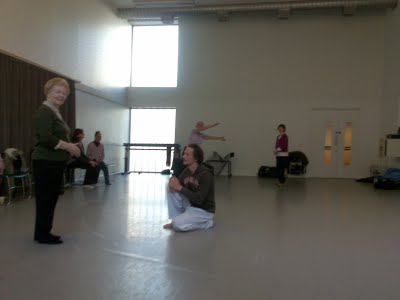 For the past three weeks, I've been working on a commission for an evening of work called Triptik.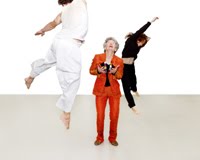 The evening is produced by Ríonach Ní Néill and her company Ciotóg (in association with Project Arts Centre) and it will take place in Project Arts Centre from 15th-19th December. Ríonach also runs the Machusla Dance Club for over 50s and has been finding ways to extend the club and her own artistic practice by involving club members in her work. For a triple bill, she's commissioned me and Rebecca Walter to make pieces that include performers from the Machusla dance club and professional dancers.
Accepting the commission raised a number of questions for me since I wanted to work out how I could be true to my artistic instinct and practice and still work in a way that respected the input of all the participants.
I'm still in the middle of the creation process since I decided to make a film for the performance which James Kelly of Feenish Productions is directing. We've completed the filming but now the editing has to be done and while I did some of the choreographic work to generate the material for the film, there's another choreographic job to be done in determining the rhythm, structure and tone of the film. I also intend to add a live element to the performance and expect that will take the form of a solo for Stéphane Hisler as a prelude and coda to the film.
I decided to add the live element since the film features only female performers and, as with Niche, I wanted to add a kind of balance to that gender dominance. I also imagine that the solo will be a counterpoint to the predominantly group activity of the film and consequently introduce a different emotional colour.