When we were in residence in Barcelona last November, sculptor Tove Hirth and painter Gabriel Schmitz spent some time in the studio drawing, photographing and absorbing our rehearsals for Tabernacle. Their sensitivity to evocative images of bodies arranged in space meant that they saw so much of the detail of the piece. And their generous seeing was gratifying for me and for the dancers.
Now I am delighted to see some of the results of their seeing emerging in their work.
Gabriel's latest exhibition at the Galeria Rayuela in Madrid features two paintings that respond to our work: Tabernacle #1 Elena Giannotti and Tabernacle #3 Mikel Aristegui.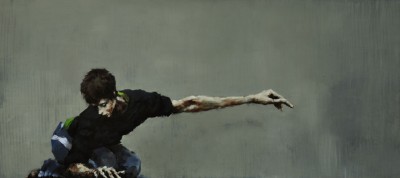 They derive from the same image, a moment in the Deposition section, but Gabriel has focused his attention on the arrangement of two bodies in the group of 5 and has separated the two bodies into separate solitary images.
Tove meanwhile has made a series of bronze sculptures that elaborate variations of the single figure in relation to a bench.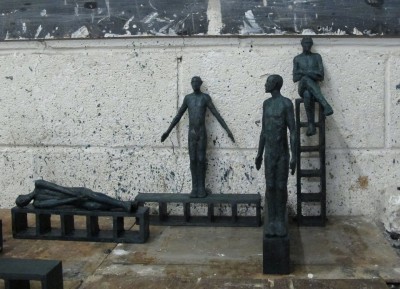 To see that Tabernacle survives in and through these works gives me hope that it survives with others too.