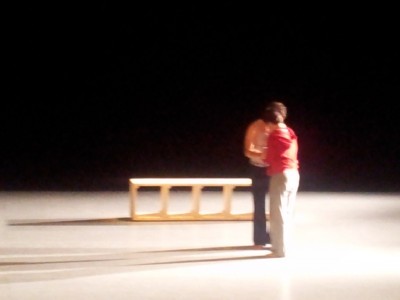 I'm writing this post after midnight in the A&E of Barcelona's Hospital Clinic where Mikel is having his ankle checked having twisted it at the start of tonight's performance of Tabernacle. Watching the show I knew he was more physically restrained than normal but didn't realise that he'd hurt himself in the show. Adrenaline proves a powerful anaesthetic. Mikel managed a particular physical challenge tonight but all of the dancers make their own negotiation with discomfort and pain to allow the piece to emerge. They are brave and generous in what they offer up.
It was exciting to present Tabernacle in the vast space of
Mercat
's Sala MAC. The space was built originally for an International Expo in 1929 and was a home to Peter Brook's work for many years (so a sacred space of theatre already.) Like in previous performances I wanted to remove all the masking from the space. In Sala MAC, the resident technical team were reluctant to do that given that most performances use masking to create a black box or proscenium space in the hangar-like room. But we removed all the black masking, stripped the theatre back to walls, concrete and iron struts and presented a luminous Tabernacle on a big grey floor (15m X 10m) that was small in comparison to the airy, open darkness that extended around it.
I stuck to my instinct to strip back the masking when the Mercat technicians queried (out of genuine concern I think for the quality of the presentation) that decision. But I did wonder whether I was wrong. Seeing how beautiful the piece looked in Sinéad Wallace's lighting reassured me, as did Sarah Browne's observation that I have been concerned with transparency throughout this process and that the decision to remove the masking was therefore a necessity. It's great having someone whose proximity to and distance from the work gives her a clarity of perspective that I don't possess.