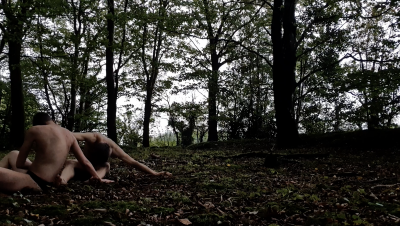 Thanks to a residency opportunity from Dance Ireland, Isabella and I have spent a couple of weeks of research together at Tyrone Guthrie Centre in Annaghmakerrig. We applied for the residency time to deepen an investigation of how two queer dance artists in Ireland choreograph new arrangements and interactions of their bodies beyond the familiar patterns of heterosexual or homosexual desire. We also wanted to keep investigating what presentation formats would best support an audience to engage with the choreography.
It's almost twenty years since I first visited the Tyrone Guthrie Centre when I attended a Dublin Fringe Festival workshop called Thread (a forerunner of the current Make artist development programme). The workshop brought together artists of different disciplines among whom were filmmaker Oonagh Kearney, composers Julie Feeney, George Higgs and Áilís Ní Riain, theatre-maker Jason Byrne and actor Dónal Toolan. It was from work that I started there with Jason and Julie that Cosán Dearg subsequently grew and I've continued to have a sense of kinship with the other artists as they've developed their singular creative careers. (Dónal's death in 2017 was a huge loss to the arts and to disability rights in Ireland).
It may seem superfluous to refer to this history, but I am increasingly aware of how much of my experience of people and places I carry with me when I dance. And I want to recognise and also honour those experiences, especially when I return to a location, where the energies of previous visits, crossings and connections offer a potent material to work with. Dancing is liveness – aliveness – and when I dance now, I am dancing as I am, mindful of the experiences – conscious and unconscious, physical, emotional, historical and environmental – that shape that sense of the dancing I am. Tearmann Aiteach is a project that creates space for that engagement with the I am, the I that is being created, with the more that I that has created it and with the other than I it might be and could become. Tearmann Aiteach/Queer Sanctuary is a space for transformation, for the becoming of other possibilities, recognising the material that I and we bring into the dance sanctuary.
The we is important because the space Isabella and I are creating is one that happens between us, made possible because of some physical resonance between us that isn't dependent on a long history of working together. In fact our two weeks in Annaghmakerring have been the longest stint we've spent together. Until now we've built our performance on the lightest of interaction between our separateness. We're drawing on the resonance between the solos I made for each of us (and in Isabella's case remotely via Zoom) and to which audiences at Uilinn drew our attention. Having layered those solos on top of each other for our performances at Originate in the Dublin Dance Festival and in John Scott's Dancer from the Dance Festival, we are encouraged by audiences that have been willing to follow us in the space of possibility that our dancing is trying to make and maintain. And though I initiated the solos, what happens now is a shared endeavour between Isabella and me, and between us and the collaborators and audiences we are drawing into the experience.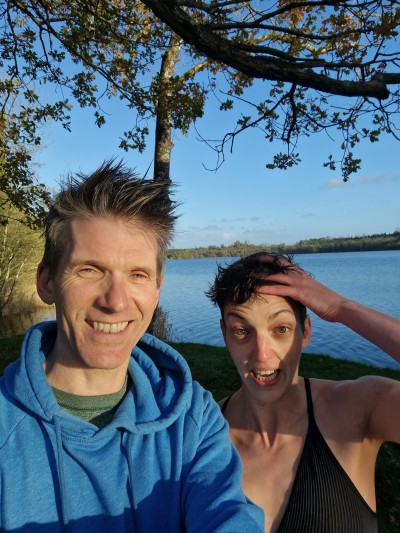 While not aiming for a homogenous physical aesthetic between us, it was good for us to gain a deeper understanding of our similarities and difference so that we can support one another more effectively in the ongoing work. Part of the benefit of Tyrone Guthrie was the physical environment where we could explore the stimulus provided by a natural environment – by forest, field and especially the lake. Swimming in the lake offered us a bracing physical experience that activated our bodies and released unexpected creative possibilities. Being in the lake was also a useful metaphor for our work: our daily swim (for me more of a dip) became part of a practice shared together, a challenge, but also a reward, something we did differently but together, something where our separateness was contained by the lake with its thrills and danger, something which occasionally inspired others as our fellow residents joined us, made confident by our presence and example. In this way, working between the comfortable studio and the readily accessible outdoors allowed us to integrate embodied reflection on the interface between human and non-human life under the rubric of queer sanctuary.
The company of other artists at TGC gave us an opportunity to share our practice as performance. The opportunities we took to invite others into the process highlighted the importance of performing as part of the deepening of the practice and research, rather than as a single end-point and destination. And as a result it indicates that the future of the work lies in expanded formats that are anchored and energised by performance and invite exchange. With a residency at Dance Limerick in January and an opportunity to present work at What Next in Limerick in February, we have come from this period of residency with a strong choreographic structure that we already know engages audiences. All of this is hugely beneficial, especially at a time when, thanks to my role on the Arts Council, conventional project-based resources are not available to us. The restriction however has allowed us to develop this work slowly, sustainably and pleasurably without some of the market-driven responsibilities of the project-funded approach. That sidestepping of the market doesn't mean introspection however. Our aspirations for Tearmann Aiteach are to create shared spaces for flourishing and we'll continue to develop those aspirations whenever we can. Performing in the studio at Annaghmakerrig for some of the other residents opened the sanctuary. We are starting to think about a format for sharing the sanctuary, a residency, a practice, performance, for queer-identifying artists and for others happy to enter that space of queering.
If it's something you'd be interested to hear more about, do ask. We're looking for the practical structures and partnerships that could support that space.