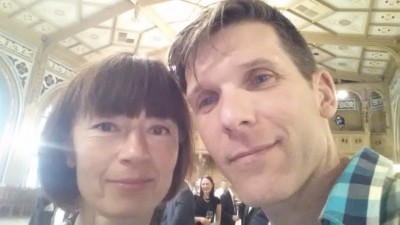 I've spent this past week in a self-organised residency with Olga Zitluhina, funded by an Arts Council of Ireland bursary. I met Olga as part of the E-motional Bodies and Cities project in 2012/13 and had an opportunity to work with her some more on an additional residency in Dancehouse Lemesos where we made an improvised performance that was influenced in part by our experience of Cyprus in the immediate aftermath of its banking crisis.
I knew from our conversations that Olga had been responsible for the development of contemporary dance in Latvia, founding the first and eventually flagship contemporary dance company (that she disbanded last year). More importantly she developed a training programme for contemporary dancers and choreographers in the Latvian Academy of Culture and through it has had a huge influence on the students who have become her fellow teachers, choreographers and dance producers. All the dancers I met had trained in this programme and identified themselves according to which generation of the programme they'd been in.
My intention in spending time with Olga was to absorb from her, to see a mature artist at work. I loved dancing with her in the E-motional Bodies and Cities work and admired the openness of her creative approach, combining improvisation with a rigour and care. I wanted to see what approach means in her daily life, how she prepares, what impact it has on others. As in my own work, I am interested in how the values that animate an artistic approach are manifested beyond performance. In Olga's case it is clear that her development with dance students, her organisation of the dance festival are instances of her creative practice.
Seeing Olga's impact in Latvia, I question my own lack of tangible legacy. I don't doubt that I make a contribution but it is not measurable or identifiable in the way that I see Olga's admirable achievements. It may be that I am not motivated to create lasting structures. I create temporary structures because I expect that people who engage with mine will want to create their own once they've had the experience, impetus or example I can provide. Increasingly, working with organisations rather than artists, I recognise that some people appreciate, (need?prefer?) more sustained and directive guidance and structure. I encourage autonomy because I desire it for myself. Is it time to adopt another approach and could I manage it?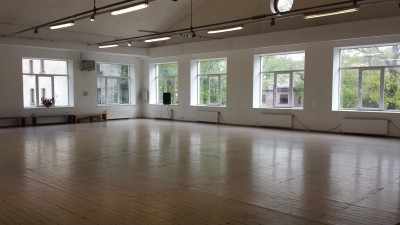 The irony is that when I teach a technique class, it is a very structured Cunningham class: I never teach for long stints and never profess the technique to be a gospel: no one is going to perform in the Cunningham company now so what I teach has to be about enabling possibilities for future dancing. I taught professional class in Riga this week in a huge, airy studio that delighted me because I could range across it with abandon. I enjoyed giving information to the dancers about clarity and energy through this form. After the last class, I asked the dancers what they'd taken from the classes, what if anything they found relevant. No doubt there was an element of politeness in their responses but I was gratified that they found the class helped them feel organised in their bodies, that the clarity of the elements in the form allowed them to concentrate on how they connected to the ground and mobilised their bodies with lines of energy.
I saw the dance students from the Academy a number of times during my stay. Olga invited me to see their solo improvisation assessment classes and to offer some feedback on what I saw (alongside Fiona Millward, of Independent Dance in London). In addition I attended rehearsals and ultimately performances for two different pieces. I was struck by their fearlessness and responsiveness to change and surprise. They are a group of almost 20 dancers. The Academy selects an intake that is trained over four years before another group is selected. The model works well for a small country like Latvia and might be a useful example for Ireland too as yet another Arts Council report is published that recommends the establishment of professional training for dancers in Ireland. Training together for four years creates a group that trusts each other and understands each other so that they can respond in the moment to the shifting environments, contexts and choreographies in which Olga puts them. It seems that from their first year, the students are performing for the public, earning money and learning about performance in the process. Of course, in watching them, I recognised my own appetites, a desire for some more clarity of physicality to ground the energy and occasional frenzy of their movement. But I wouldn't want in any way to compromise the adaptability of these dancers, an adaptability and responsiveness that is a valuable training for life.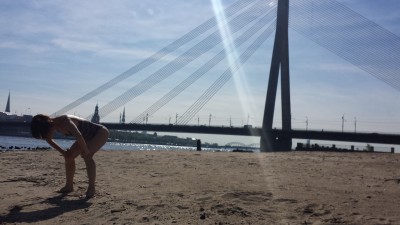 Olga and I danced together a little during our stay, in the studio, on the street in Old Riga; but also in our short swims (bracing dips) in the refreshing sea in Riga and Leipaja, in our daily routine in her apartment, in my watching her perform a Deborah Hay solo, 'Dynamics', as part of a Museum Night programme in Leipaja. I learned from her in all these moments and in the conversations that asked how you continue as a mature artist, what does it mean to be relevant, how to work when the choreography encompasses educating, organising, advocating etc. I return from this residency delighted to have seen the fresh greenness and lilac-scent of Spring's arrival in Riga and feel some freshness in my own thinking too.