I think we've worked out the name of the installation.  The Fingal Public Art Commission was Tattered Outlaws of History.  This new work that opens in Jaywick Martello Tower will be called Tattered Outlaws and it will include the Tattered Outlaws of History (twelve films) plus a new series of films made in response to the East Coast Towers.  That new part is provisionally titled If the Invader comes.
So Tattered Outlaws of History + If the Invader comes = Tattered Outlaws
The process is one of refinement and simplification, clearly.
Some of the volunteers at Jaywick Martello Tower are going to help build the physical framework for our screens (that have now made the journey from Ireland).  They volunteers are  generous with their time and skill and we couldn't do the work without them.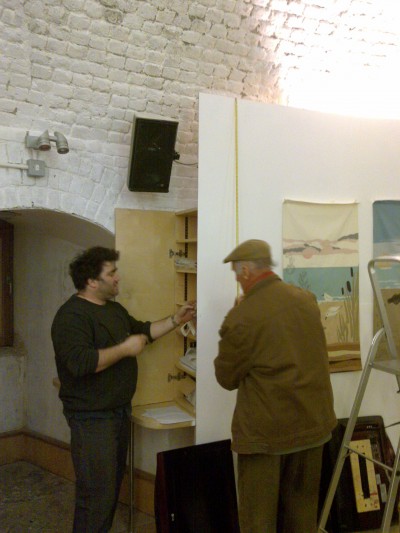 The volunteers feel related in skill and generosity to Marcel whom we met today at an audiovisual hire company in Colchester.  We've hired some sound equipment and a monitor so that Dan can see the filming more easily than on the camera view finder.  Marcel has gone out of his way to help us with the small but specific things  we need (the company is more used to hiring out huge sound systems for concerts and gigs) and has been happy to answer our phonecalls when we don't quite remember how the kit should work.  These good souls enrich our project.  Or at least they make me happy about goodness in the world.