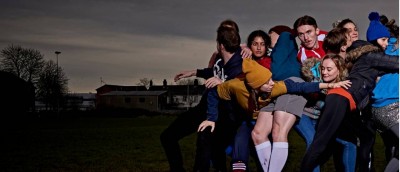 I haven't posted for quite a while.  It's just over six months since I started my role as Artistic Director of National Dance Company Wales and getting to know the company and the people who care about it and invest in it has taken a great deal of energy and attention.  And in my spare minutes, I've been using Duolingo to learn Welsh.  (As an Irish-speaker, I'm keen to honour the equivalent of an súil eile – another eye –  that comes from having a different linguistic frame of reference).
I've been fortunate that I have arrived in a company with plenty going on and in particular with strong programmes of work that display the skills of the company.  It's been a pleasure to support them and to see audiences respond so positively.  Meanwhile, I've been busy trying to make sure that we have diverse, stimulating programmes for next year and beyond, when the kind of perspective I'm offering the company and its audiences becomes evident.  The press release announcing some of next season's activities gives the detail but one of the things that I'm grateful for is the chance to make work with the company.
The work I'm starting is a project that uses rugby –  a physicality already familiar to many people in Wales and around the world – to explore what it means to make a team and a community of support.  It's a project that continues some of the preoccupations of my work, like Match and The Casement Project.  In the current political climate, it feels relevant to use what dance knows about the making of individual and collective bodies to research and model what new forms of coming together could be, new forms that allow for a greater diversity of bodies to flourish.  I hope The Rygbi Project will connect and transform people's existing knowledge to provoke thought and provide experience over the next few years.
The work has already begun (and I'll write about that in my next posts) but its first official performance  will be as an outdoor piece (called Annwyl i mi/ Dear to me) for the professional dancers of NDCWales at the National Eisteddfod in August.  Another version of the work will tour small scale venues across Wales in the Autumn and another manifestation will be part of our Spring 2020 Tour.  So it's a project that I hope will build on the structures the company already has for connecting to audiences.  And, like The Casement Project, it's a way of working that will reach into other formats, offering different ways for people to connect to and contribute to the work as spectators and participants and in the process, helping us developwhat NDCWales could be.