I was surprised to find an article in China Daily about my friend and collaborator, Xiao Ke.  As I've written before, she wasn't entirely comfortable performing in the Expo context when we were there together, mostly because it doesn't feel like an authentic experience of China or of the world it purports to represent there.  (I wonder if that lack of 'authenticity', the enforced 'best foot forward' is an authentic, revelatory experience).  However, as the article communicates, she has nonetheless performed in three separate projects within the Expo context, joining artists from the UK, Germany and of course, Ireland.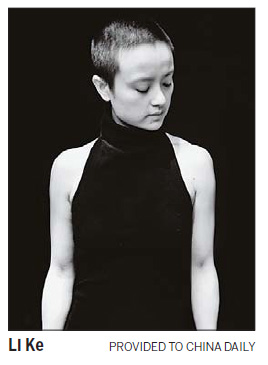 What interests me is that the article transmits her dissatisfaction at not being able to perform, officially at least, much of her work in China because of its 'sensitive' content.
On the current situation of China's contemporary dance, Li said she worries about its future. "Most of my works can't be shown in my home country due to the sensitive subjects they encompass," she said. "I think it's pathetic that the art someone creates is not supported by their homeland. I can only perform overseas."
And I'm glad to have the opportunity to know at first hand the journey of artists like her to change that situation in China.
Meanwhile, she told me that she was thwarted by EXPO recently in her attempt to eat watermelon: she went to the supermarket to buy a knife to cut her watermelon but could find no knife there or in any of the local markets.  When she asked where she could buy a knife she was told she'd have to go to a special shop with her ID card because the authorities were controlling sale of knives during EXPO.  So she couldn't eat watermelon that day because of Shanghai's EXPO.