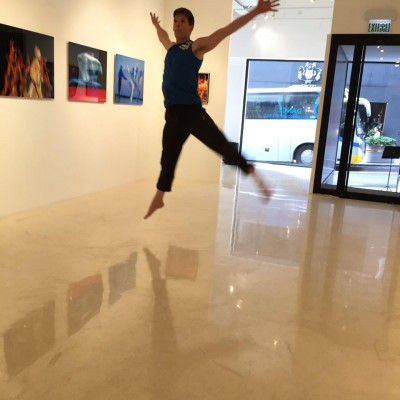 I'd thought I'd given up dancing on concrete floors. A commitment to presenting dance beyond the theatre, where different people might meet it and where it could resonate differently, had led me to performing on hard floors. But after tearing the meniscus in my knee during performances at the Shanghai Expo in 2010 when we danced on concrete floors, I thought I wouldn't be doing that again. My recently, I watched the committed dancers of Boris Charmatz's Musée de la Danse, pound their bodies on the concrete of Tate Modern and feel disquieted and bemused since the Tate Modern website featured an interview with Yvonne Rainer that specified that dancers in galleries should benefit from sprung wooden floors for their performances (Cunningham's work in galleries was usually presented on raised stages).
And yet, last night I danced on the polished concrete of the Agnès B gallery in Hong Kong and had a wonderful evening, even if my body does now feel compacted and a little bruised. The evening was curated by Alice Rensy, formerly Raimund Hoghe's manager and now based in Hong Kong. She took advantage of the fact that I was in Hong Kong to include me in a series of dance events that she's programming at the gallery to mark the exhibition there of Eugenia Grandchamp des Raux's photographs. I shared the evening with Yang Hao, a Hong Kong-based dance artist from Chongquing whose accomplished dancing I saw when he was in CCDC, and who was a fellow participant in the i-dance festival improvisation workshops last December.
I decided I would revisit the solo from Cosán Dearg for the performance. It's the piece I performed on my first visit to Hong Kong in 2007, as part of the Dadao Live Art Festival on tour.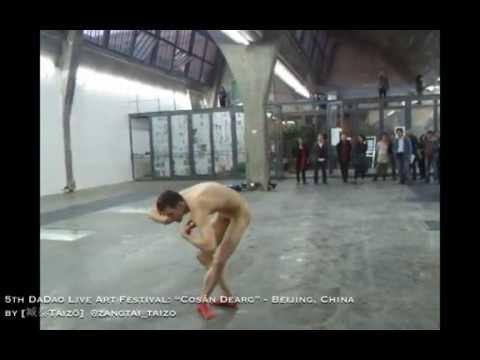 I presented it in the Osage gallery and so it seemed appropriate to be doing it again in another gallery. Also, it's the solo that I shared with Aoife McAtamney this year when we first started to work together in the studio. I wanted her to have some sense of my movement so asking her to take it in to her body was a way of passing that sense on. But I also wanted to see how the work transformed in her. Performing it again, I wanted to test how it has transformed in me.
It's a work that's built on repetition, the red path or cosán dearg indicating the earth worn brown/red from repeated traffic. It was a martial choreography with a strong and defended body when first I made it. Now as I've start to investigate what porous and permeable bodies might bring to my choreography, I was ready to repeat the work with a different sensibility.
For the evening we decided that each of us would bring a solo and that we would finish with an improvisation that built on the dialogue between the solos.
Because my solo was shorter that Yang Hao's I performed Cosán Dearg, Yang Hao presented his Pied a terre, and I did Cosán Dearg again, inviting the audience to notice what had changed in me and in them since the first time they say it. We finished with an improvisation in which we reflected on the evening and on our response to one another's work while dancing material that echoed that work.
I was so happy to perform and found the audience, which included ACLP and dancing friends in HK, generous and engaged. I think the gallery staff were surprised by the turn-out though given Yang Hao's profile in the city (a former star dancer in CCDC and growing choreographic talent), they shouldn't have been. Mostly I was very happy with the warm and open atmosphere we created together, making for an environment where the audience could be involved in and close to the work.
I was also tickled by my costume. The solo was always performed naked: I'd had a sense of it being an animal energy and the unclothed body best expressed that. However in Hong Kong in 2007 I wasn't allowed to be naked and though things have changed in the city's cultural scene (I presented Cure last December with no issue about nudity), the Agnès B gallery weren't comfortable with me being naked for this version either. I didn't need to push but did wonder what I would wear instead. The solution presented itself when I discovered that the Agnès B shop had loaned clothes for a previous performance. I chose an outfit of vibrant red clashing prints of a kind I've never worn before. But I loved the transformation and strangely animal quality of the print. It also has a hint of the clown and of the rock star but I was happy not to take myself seriously. This lightness is something I've learned from dancing with Olga Zitluhina. Thank you Olga, it's makes for joyous dancing that is no less serious for its fun.
Postscript (1 Jan 2020): I just found this video edit of our dancing!