Déambulations

Audio postcards from seven artists in their neighbourhoods co-curated by Fiona Hallinan and Nora Hickey M'Sichili
Déambulations is an audio walk series launched by Centre Culturel Irlandais Paris in March 2021. One of the quiet consequences of restricted movement this last year has been a shift in our perceptions of the perimeters of place, locality and home. These moments of 'staying put' have brought heightened awareness of seasonality, the behavioural patterns of neighbours, biodiversity, multi-species throughways, soundscapes, accessibility and public amenities as well as natural and built environments.
Seven artists from different approaches and practices have been invited to create audio routes through their local neighbourhoods in different European cities.  Choreographer and dance artist, Fearghus Ó Conchúir created an audio walk through The Walthamstow Wetlands in London.
Listen to the full series here
Listen to Fearghus's audio walk from the Walthamstow Wetlands here
Listen again to the launch night of the Thursday 4 March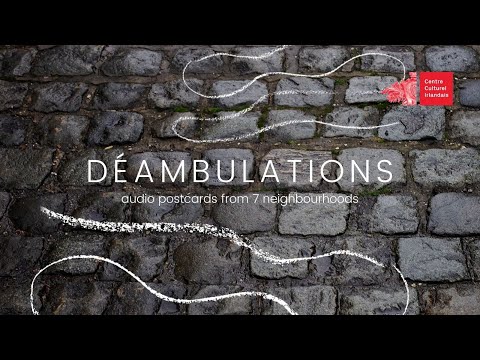 To launch Déambulations: keeping the ground of our being, Fiona Hallinan introduced the project with a talk on the form of audio guided journeys. This was followed by a panel discussion with the seven invited artists moderated by Hallinan and CCI director Nora Hickey M'Sichilli.
The title keeping the ground of our being comes from the work of author Gloria E Anzaldua.