Match – Live version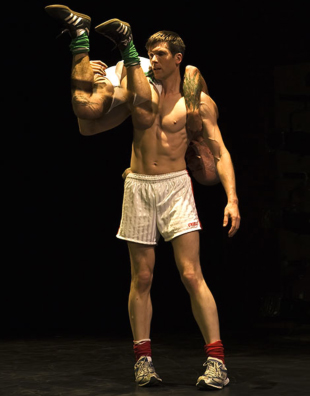 Photo Gallery
(12 minutes)
Premiered in Bassano, Italy 2007
Choreographer: Fearghus Ó Conchúir
Performers: Matthew Morris and Fearghus Ó Conchúir
Music: Iarla Ó Lionáird
Match is a duet for two men created originally for a dance film set against the backdrop of Croke Park, Ireland's iconic stadium of traditional Gaelic games. The story of the dance is one of contest, where, as in relationships, sport and battle, one emerges stronger and survives longer than the other.
Match has been performed on a football pitch in Italy, outside the Guggenheim in Bilbao, in galleries in Beijing and in Vitoria, in theatres in London, Edinburgh and Holyoke, Massachusetts and at the Irish Pavilion in the Shanghai World Expo 2010.
Match from Fearghus O'Conchuir on Vimeo.
Video from The Place Theatre, London
Video of BAMOIC gallery performance, Beijing
Press
'Two men, who once and for all put the coffin lid on the notion that male dancers are effeminate, bring the sweat and muscle of the pitch on to the dance floor. Yet there's also a fine tenderness to this athletic duet, capturing camaraderie and male friendship.' Kelly Apter – Read Article
'crackingly good dance.' Mary Brennan – Read Article
'A fascinating and thought-provoking work.' Gareth Vile – Read Article
'affecting yet completely distinct vision of contemporary dance' Sam Friedman – Read Article