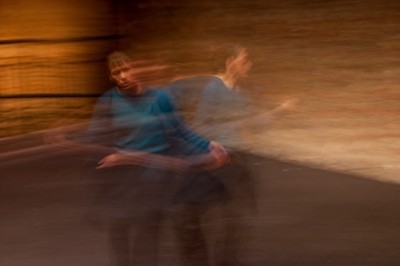 In June this year, Liam Carson, director of IMRAM asked me to present something in the Irish Language Literature Festival that he organises. His imaginative approach to generating more interest in new writing in Irish leads him to commission collaborations between writers and artists from other disciplines. I was to be his first foray into contemporary dance. I suggested working with a poet initially, prompted by the sense that the allusiveness of poetry allows more space for the kind of dance I like to make. Liam proposed instead a novella called Ré by Daithí Ó Muirí. I read it and was intrigued by its dream-like narrative in which the female protagonist returns to the same or similar locations meeting the same or similar people. Dreams work by substitution, association and repetition and I recognised choreographic structuring in the way the story is put together with a coherence that isn't necessarily in the narrative line.
The challenge in working on the project is the limitations of budget and schedule meant we would have just two and a half days in Dublin to make the work before its opening in the IMRAM festival. To be able to achieve the end result, I had to work in a way that was very different to how I usually make work. I had to plan the piece in advance and see the two and half days as simply the working through of the plan. I wasn't very comfortable with that kind of approach. I value the opportunity to learn new things in the studio and was afraid this kind of process would be mechanical rather than creative. However it's been a year in which I've encouraged myself to try new creative approaches and it felt like a good challenge to take on.
Fortunately it worked out very well, due in no small part to the rest of the team involved: dancer (and choreographer) Ríonach Ní Néill, sound designer Alma Kelliher, lighting designer Ciarán O'Melia, Daithí the writer and Adam Fitzsimons the technical manager.
It was a pleasure to see Ríonach dance material from the Bodies and Buildings films, particularly the Osage gallery films from my Beijing Residency. I'd chosen to use those films because their urban quality related to the setting of Ré and Ciarán, the designer did a great job of connecting the architecture of the films with the distinctive architecture of Smock Alley.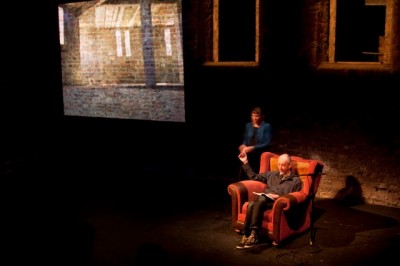 I've not been concerned in recent years with whether the dancers with whom I work look like me when I ask them to take on my movement material – and I don't do that very often. Teaching the Mo Mhórchoir Féin solo to the dancers for Tabernacle was more of an opportunity to display their individuality rather than their adherence to my movement style. However Ríonach and I have always moved in similar ways, probably as a result of our long limbs, our attack, our muscularity and of our angularity. So it was an unexpected pleasure to see Ríonach dancing material that had emerged from my body and only been expressed in my body. Seeing her take on that material gave it a validity and purpose that I don't always accord movement that only exists in my own body. And the material looked good – by which I mean large, dynamic and peculiar.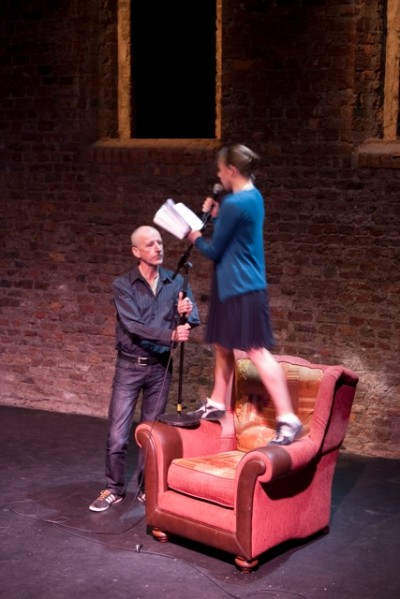 After the first performance in Smock Alley for IMRAM, we had a second performance at Axis in Ballymun as part of the Fás agus Forbairt Symposium about Irish Language and Contemporary Arts Practice. Because we were in tech rehearsals most of the day I didn't get to take part in the discussion but I appreciated the engaged audience that came from it to see the performance.
In the post show discussion I was asked about the difference it made to me to make work in Irish. I could only respond by saying that Irish tastes different in my mouth. It shapes my jaw in a different way and that shaping is a physical reality that is different to how I function in English. Both physicalities are part of my making. I wouldn't want to lose either.