In traditional Chinese cosmology, Autumn is the time to let go, slow down and nourish oneself.  My room faces the courtyard of the CCI where I can see the chestnut trees shed their russet leaves, preparing for winter.
Lockdown in Paris has curtailed my movements across the city.  We are permitted travel for exercise no more than a kilometre from our residence – though essential shopping and work provide excuses to get beyond that limit.  I travel mostly between my room and the Salle de Conference or Salon des Residents where I dance – still moving a lot despite my asking myself what could I let go of, how could I slow down?  This question isn't new.  When I was here in 2018 I wrote a post about sweat, the over-investment in effort as a signal of value, a demonstration of commitment.    It's an old habit, born of a sense of inadequacy and need to compensate for not trusting my value.  Conor Horgan took a photo of me at the time which shows that sweat.  The portrait has just arrived at the CCI along with a number of others that will hang in the stairwell of the CCI.  It's an honour to be included in the selection, though that is more a testimony to Conor's art than to mine.  When I saw the portrait again, this time I thought less of the effort than of the stillness that I 'earn' after exertion.  I can see the possibility of rest and renewal.  Deepening more than changing.
Knowing that I return to a fortnight of quarantine in London in addition to the English lockdown, I think of myself storing dancing experiences here at CCI, squirrelling away the possibilities that I don't expect to develop visibly until Spring.  The time here has made me keen to gather but a bit more patient about outcomes.  I sense the flow and don't feel so anxious about its pace.
This small video comes from near the end of my residency time in Paris and reminds me of a video I did with Xiao Ke in 2007 on what was then a basket-ball court in the part outside of Dancehouse in Dublin.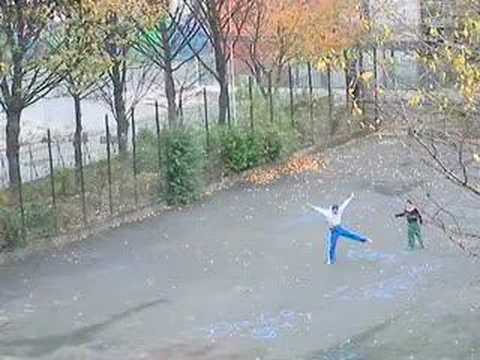 Like my CCI courtyard dance, this is also a November dance shot from a distance in a way that reminds me of the kind of Chinese landscape paintings that have a small human figure crossing a bridge in a corner, suggesting our place in a bigger arrangement of energies and cycles.  Xiao Ke has this week finished leading the remount of Jérôme Bel's Gala in Shanghai.  Bel has decided to no longer travel by air to make his work and is instead working remotely with trusted collaborators on site to have his work show up around the world.  Still trying to show up in the bigger cycles.