Performing at the Irish Pavilion in the Expo wasn't easy. I think Xiao Ke, Feng Hao and He Long felt a little weird in the Expo environment as they felt it to be a manifestation of the Chinese government and its desire to present an image of harmony and success to the world.
The Disney-style parade that passes through the Expo each day sings over and over the message 'One World', but my Chinese colleagues can't really buy in to that government-enforced optimism. Most of the Chinese artists I've met in Beijing and Shanghai roll their eyes at the mention of Expo and are amused that they are co-opted to be part of international projects in the various pavilions. Xiao Ke will be back at Expo next month performing with Janice Claxtion at the British Pavilion.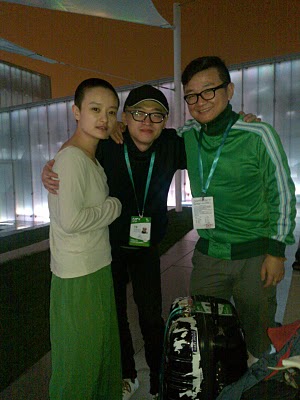 Of course I'd like to think Dialogue is different, particularly because it is based on a friendship. I am very happy to count Xiao Ke as a friend now and through her I have met collaborators, He Long and Feng Hao, who are good artists and good people. Though we haven't worked together long as a team, the adversity we faced in Shanghai has made us pull together and support one another.
The Irish Pavilion had prepared a 9m x 4.5m stage in its courtyard that was suitable for the traditional Irish music and dance show that was performed there, but not right for Dialogue. It took a bit of effort but we managed to get the technical support to have the performance at the top of the courtyard as I'd originally agreed after my visit in April. We didn't have theatrical light but the shifting LED lighting in the courtyard walls was beautiful and the piece looked good there.